They say that opposites attract and BalletBoyz' Life. proves this is absolutely the case with two exceptional pieces that are at opposite ends of the same subject: light and dark, boy and man, life and death!
Pontus Lidberg opened the night with a completely bare stage surrounded by light, airy curtains blowing in the wind, a man in traditional costume stood centre, accompanied by a Rabbit sat meditatively on an oversized swing. RABBIT is exceptional in its balance of surreal and abstract, measured carefully against respectful storytelling.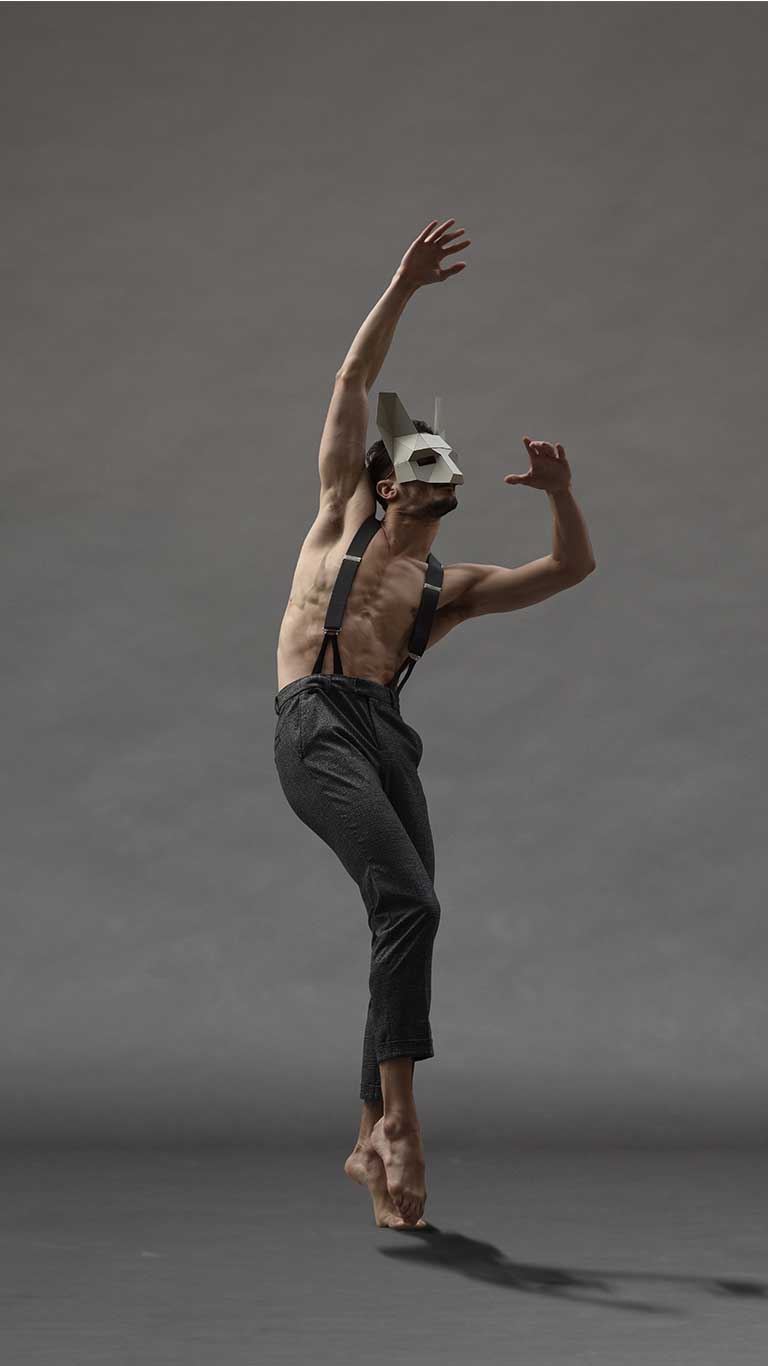 The imagery in this piece is youthful and reminiscent of our childhood fables. You can't help but smile as the rabbits hop, skip and roll around the stage to Gorecki's Kleine's 'Requiem fur eine Polka'. I heard an audience member whisper "it's like a dream" at the exact same time I was thinking it. Whimsical and compelling; a special piece that celebrates both the solitude of childhood play and also the power and beauty of male relationships both real and imaginary.
In complete contrast Javier de Frutos' FICTION is raw, real and at times uncomfortable in its intense physicality and in the angry way the athletic dancers throw themselves across the stage and at the metal barre that creates a centre piece for the set and story. We can see a backstage dance space, lights and equipment. We hear within the dialogue that "Frutos is dead" and at their rehearsal the ensemble begins to decline into chaos, bullying and aggression as they appear to fight for the alpha male role. The choreography in this piece is unpredictable but also intensely powerful and shockingly effortless.
This is a true ensemble piece that shows of the control and strength of the Company, with each dancer taking centre stage to a vibrant and unique soundtrack of recorded dialogue; original composition and a motif musical insert of Donna Summer's 'Last Dance'.
Life. is definitely a story of contrasts expertly executed by the BalletBoyz on their UK and European tour until June 2017: www.balletboyz.com
Reviewer: Alan Stuart Malin
Reviewed: 28th March 2017
North West End Rating: ★★★★