Michael Morpurgo, children's laureate in 2003-5 and the writer of Running Wild, based his book on distant memories he recalled of a young girl carried to safety by a beach elephant during the Tsunami that hit Phuket, Indonesia in 2004, although his book features a young boy. Samuel Adamson is the man responsible for adapting the book to stage and what an incredible story is told and recreated in this adventure with disasters and the consequences of destruction by natural forces and at the hands of man. Tragedy, loss, hope and a young girls desperate battle for survival as she encounters wild animals and profiteering poachers as she seeks safety.
There is a moral tale as animals are poached for their skins, as exotic pets and for the palm oil used in many of our household products. Much of the story is tragic and possibly a little heavy for younger members of the audience to absorb but teaches a valuable lesson nonetheless.
Tonight the role of Lilly is performed by Jemima Bennett who brilliantly executes this challenging portrayal of a young girl who experiences the loss of her father to a roadside bomb in Iraq and in an effort to help her overcome her grief, her grandmother suggests a trip with her mother (Balvinder Sopal) to her home country, Indonesia. Bennett confidently expresses all the emotions demanded of her, from her closeness to her beloved football fanatic, fun loving father (Kazeem Tosin Amore) to the pain of his death. On stage for the entire performance, Bennett never falters and can be heard above the roars of the crashing destructive waves of the tsunami that destroys all in its path.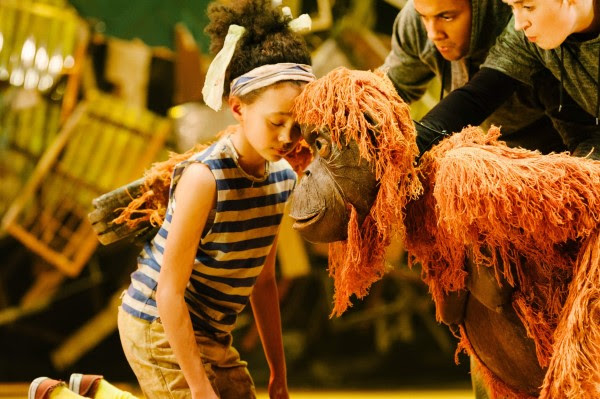 The special effects to recreate the tsunami are inventive and along with the sound and lighting effects really bring home the terrible events of that day. Lilly had been riding a beach elephant who became restless and ran off with her into the rainforest ignoring its keeper's calls and undoubtedly saved her life as the tsunami struck the beach. An elephant, tiger, crocodile, countless birds, fish and a whole family of orang-utans are encountered. So just how do you get all these creatures onto a stage? The use of incredible puppeteering is the answer. Designed and directed by Finn Caldwell and Toby Elie for Gyre and Gimble, who also worked on War Horse, the amazing Oona the elephant is brought to life by a team of skilled puppeteers, who completely capture the moves and actions of all the animals and the antics of the orang-utans are totally realistic. You soon forget about the puppeteers which is a credit to their performing skills! I particularly loved the tiger attack and Oona defending Lilly, a spectacular visual wonder and actually a little scary! So will Lilly reach safety with her animal friends? Will her grandmother, (Liz Crowther) who flies out to find her and her mother after hearing of the disaster be successful in her search? And what of the animals fate?
Running Wild is an enthralling, thought provoking tear jerker and continues its run at The Lowry until 22nd April 2017. You will not be disappointed with this creative production.
Reviewer: Lorna Weekes
Reviewed: 18th April 2017
North West End Rating: ★★★★