If you thought you knew the story Dracula, then think again. Exeter based theatre company; La Navet Bete are on a mission to retell the 'real' story of Dracula. Abraham Van Helsing is a Dutch Professor who is outraged that the publication of Dracula has been presented as fiction. Van Helsing also acts as the narrator of the play. He clearly states at the beginning that the play is not meant to be comedic or for entertainment. However, what follows is an exact contradiction of the Professor's words.
This is complete slapstick comedy, the props and set are just as integral to the production as the actors. The set looks neat on entering the theatre, but when the curtain goes up, it looks like the set from an amateur dramatics group in the 90s. There are lots of doors, broken furniture and human-pulled curtains. However, this is intentional, as it adds to the humour.
Dracula: The Bloody Truth consists of four actors who all take on multiple roles during the play. All play their roles well and do well in delivering their comedic roles. Some of the jokes are received better than the others. However, the problem with slapstick humour is that when we get too much of it, it stops becoming funny. This does happen on the odd occasion in this production, but not too much.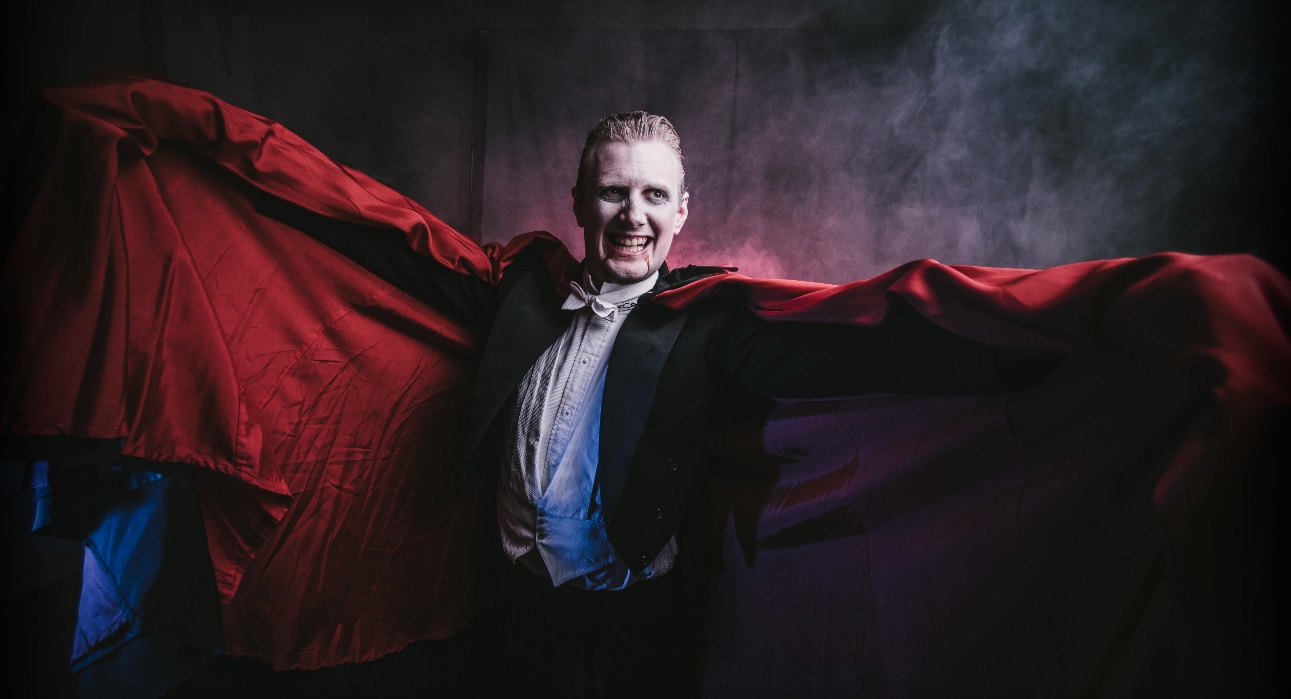 I think it's clear to say that this production has been heavily influenced by 'The Play That Goes Wrong', which coincidentally is playing at the Lowry in a few weeks time. This style of slapstick theatre is becoming very popular - it's actually the third of its kind that I've seen this year. The slight issue with this style of comedy becoming more popular is that it can often be predictable, and the audience can always guess what's about to happen.
This is a family friendly show and La Navte Bete do their best in making the jokes as relevant to the adults, as well as the children in the audience. Lines such as "it looks like a piece of sheet" had the audience in stitches.
Dracula: The Bloody Truth seems to have struck a chord with a general audience, which is unusual in theatre. In the crowd there were families, young couples, elderly couples and some singletons. All of whom seemed to enjoy it.
The show is currently on tour and will return to the north in the Autumn. http://lenavetbete.com/
Reviewer: Sean Foster
Reviewed: 13th May 2017
North West End Rating: ★★★★