A musical with a book by Harvey Fierstein and music and lyrics by Jerry Herman. Based on the 1973 French play of the same name by Jean Poiret.
A show full of glamorous politics and high kicks galore. The show focuses on a couple, Georges the cabaret's compere and owner played by Adrian Zmed and his husband Albin a drag queen star known as ZaZa played by John Partridge. The happy relationship comes to
A halt when George's son Jean-Michele (Dougie Carter) announces he is to marry Anne (Alexandra Robinson) and that her anti-gay parents are coming round the next evening. George is safe, unfortunately can Albin cover up her multi-coloured personality for her son's sake?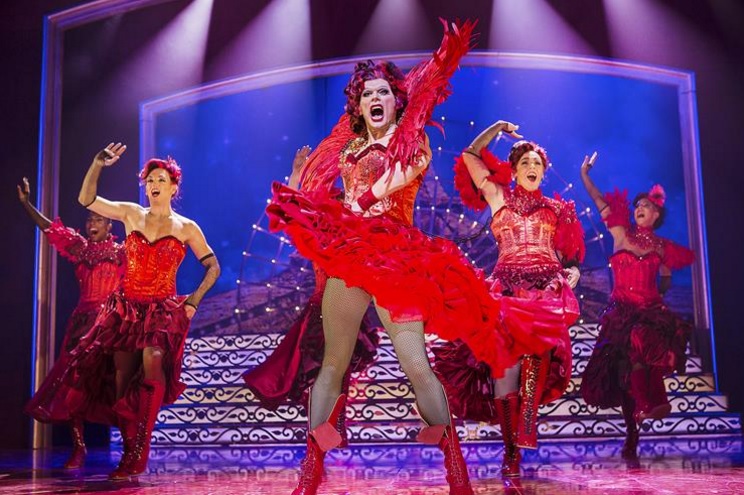 The show's set is elegant and beautiful which is equally enhanced with the lighting. There are some great songs like 'we are what we are' performed by the fabulous Les Cagelles, 'With Anne on My Arm' (a special mention must be given to the charismatic Dougie Carter for his performance of this number). The anticipation of the gay anthem "I Am What I Am" was well awaited as John Partridge's performance of this nostalgic song was second to none. His emotion choices are well thought and gives the audience a glimpse of the heart inside the character which is Albin. As Act One comes to an end there is a sense of freedom and free will among the audience.
Thought out the show Partridge shows he is no stranger to the stage from giving us shy emotions to a boisterous ad libs with the audience. An overall fantastic performance by Partridge was enjoyed thought out.
Samson Ajewole was a scene-stealer as the flamboyant butler/waitress Jacob.
The costumes are the best I've seen in a touring production this year. Sparkles, bright radiant colours, spangles, feathers and all the trimmings. Unfortunately I thought the choreography seemed too rehearsed and lacked its freshness.
The cast of La Cage Aux Folles pulled out every kick, trick and cheeky smile in the book. They give the show the glamour it deserves and which is proven when the finale arrived. The standing ovation was very well deserved and I would recommend the show to everyone.
La Cage Aux Folles Continues at the The Lowry, Manchester until June 17th before continuing its UK Tour.
Reviewer: Jordan Smart
Reviewed: 13th June 2017
North West End Rating: ★★★★