We all have those moments don't we? You know where your mind drifts away and you dream of a life away from the daily drudgery, the hassles of everyday life, the being taken for granted. Take Shirley Bradshaw, née Valentine, a 42 year old Liverpudlian mum of two grown up children, whose excitement for the day is serving up egg and chips for her husband's tea, a meal served on the dot every evening as he arrives home from work, tonight his expected steak (Thursday is always steak night!) will be missing, that should be fun!
Shirley Valentine written by Willy Russell was a one character play originally performed in 1986 before being made into a film in 1989 starring Pauline Collins and Tom Conti and tonight reverts back to that one character play with the amazing Jodie Prenger taking on the role of Shirley. Prenger shot to stardom after winning the BBC's 'I'd Do Anything' and starring as Nancy in 'Oliver'. Since then she has appeared in many theatre productions including musicals and panto to several TV shows and as a presenter.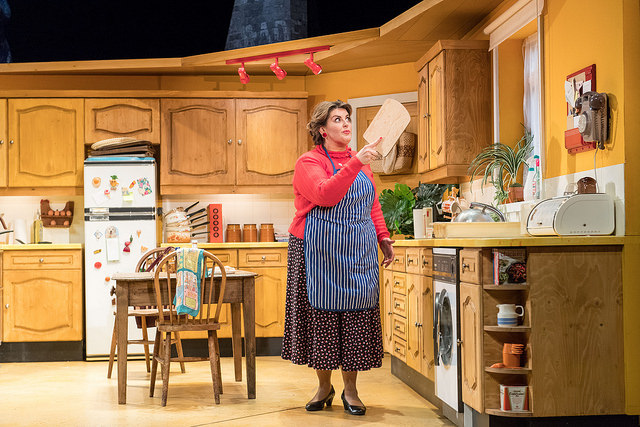 So set in her plain pine kitchen and the wall as company, Shirley takes the audience into her confidence and relates tales of her 'exciting' life, from her sons nativity play to hilarious tales of her and husbands Joe sex life likening it to "going to Sainsbury's, a lot of pushing and shoving and not getting what you wanted at the end of it!" These one liners are in abundance and their delivery by Prenger is brilliantly timed, with just the right amount of tongue in cheek, looks and that knowing wink which draws the audience in and warms you to the character.
When a friend Jane offers a ticket to Greece for two weeks Shirley couldn't possibly be daring enough to go could she? For once she puts herself first and leaving a note for her husband, 'gone to Greece see you in two weeks' she sets off on her life changing journey. Although this is a one woman show the other characters are brought to life and made believable by Prenger as she shifts from Scouse accent to that of her son, husband, innkeeper, friends and not forgetting Costas, her Greek Taverna owner and lover!
The second half is set in Greece and the kitchen wall as companion is replaced by a huge rock on the beach...but this trip has awakened the younger Shirley, the Shirley that was Shirley Valentine before marriage, can she escape and live a life she has dreamt of with Costas? Her very own 'Christopher Columbus' who helps her find her own undiscovered territory!
Prenger has the ability to engage with the audience and in Shirley Valentine we discover the comedienne in her. She manages to make you feel at home as she shares confidences, tales of woe and the highlights of her life and people around her. The laughs are nonstop and I am sure we can all relate to at least one of the situations or liken someone we know to one of the characters. This one woman show works so well thanks to the brilliant script the direction of Glen Walford but especially to the fantastic delivery from Jodie Prenger who does not travel alone to Greece.....we were with her all the way!! Way to go girl!
Reviewer: Lorna Weekes
Reviewed: 19th June 2017
North West End Rating: ★★★★