When Michael Aitkens' sitcom Waiting for God originally aired in the early 1990s, the public had a different view about how older people should behave than I do in the 21st century. Waiting for God staged at the Lowry theatre tells the story of Bayview Retirement Home, residence of battle-axe Diana Trent (Nichola McAuliffe) who conspires with new resident, Tom Ballard (Jeffrey Holland), to give the conniving manager, Harvey Baines (Samuel Collings), his comeuppance through a hilarious conspiracy with unexpectedly heart-warming results.
Age is all about perspective and Aitkens' stage adaptation may have been updated to include google searches and laptops, but it still blesses the senior citizens of the Bayview Retirement Home with a resilient nature amid failing health and incompetent management, to show us that age means little when it comes to hopes dreams and desires.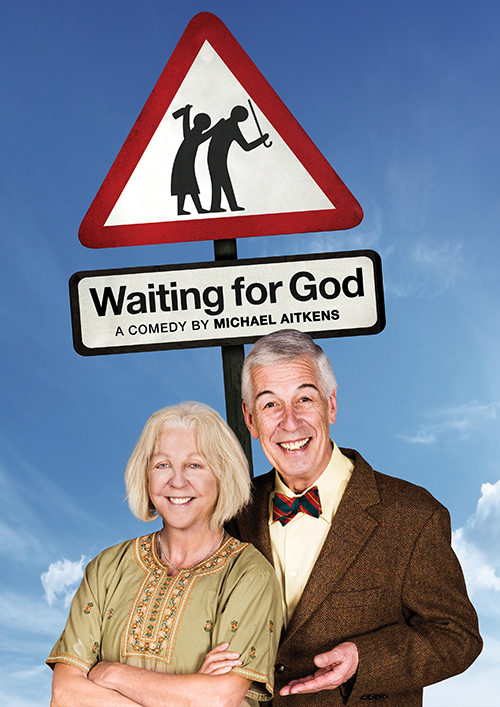 Diana Trent is a retired photographer and war correspondent who has evolved into a cynical, whinging, moaning elder who constantly throws controversy into the mix with the staff and others who reside at Bayview Retirement Home. Having lost another care home neighbour (Henry), she finds herself a new friend to play with in the form of Tom Ballard, retired accountant and widower to Maggie. Diana develops a fondness for him and together they become a formidable pair. Their lives are punctuated with Tom's son Geoffrey (David Benson) who endures an eternal battle with his wayward wife, Marion, who appears to sleep her way through her existence. Then there's Diana's successful bank manager niece, Sarah (Joanna Bending), who relies on her aunt far more than Diana wishes her to, involving her in all aspects of her life including the arrival of a new Great Niece. There's also the idiotic Harvey Baines (Samuel Collings) who 'attempts' to run the place whilst simultaneously fending off the attentions of Jane Edwards (Emily Pithon), his loyal and besotted assistant.
David Grindley's smooth direction creates a seamless piece of theatre and Jonathan Fensom's composite set is brilliant and believable, with its extremely versatile scenery that lends itself perfectly to the various scene changes.
I have never seen the TV series 'Waiting for God', showing that you don't need to have seen the television series to be able to enjoy this wonderful production. It's a definite laugh out loud comedy with intricate and clever dialogue which is delivered expertly by the cast. Nicola McAuliffe and Jeffrey Holland in particular demonstrate their remarkable expertise in captivating an audience and I absolutely loved their performances. Nicola McAuliffe's comic timing is a skill that she possessed in abundance, and this role fits her like a glove. Jeffrey Holland matches her in every aspect and they form the perfect stage couple in this theatre masterpiece.
The 2017 UK tour comes to an end on the 8th July at the Lowry theatre so if you want an experience at the theatre that is guaranteed to have you rolling in the aisles, while packing a punch with a deep-rooted poignancy and a strong cast, then grab a ticket and you will not be disappointed.
Reviewed by: Victoria Wilmot
Reviewed: 3rd July 2017
North West End Rating: ★★★★