To anyone who doesn't know of My Dad Wrote a Porno, where have you been?! Jamie Morton's Dad has been writing "erotic" (we use that term loosely…) literature, and Jamie has made a podcast reading it and commenting on it with his two friends James Cooper and Alice Levine.
We are now on series 3 and it is bigger than ever - so big, in fact that the Lyric Theatre at the Lowry is almost full of "perverts" up for a good time!
It is difficult to tell you much about the show if you're not already a fan as it is a little "inside baseball". In fact, if there was anyone in the audience that wasn't already a listener of the podcast, I can imagine they felt a little left out of the weird in-jokes ("Hahaha! Pomegranates!"). What I can tell you, however, is that it was one of the funniest things I have ever seen and easily the best atmosphere I have experienced at any show ever.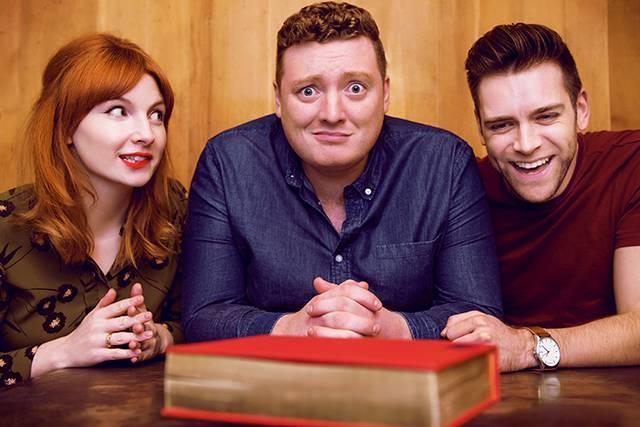 The entire audience was in good spirits and it felt as though we are all best friends, Alice, James and Jamie included. It was certainly a weird, although rather magical, moment when the whole of the theatre simultaneously raised their glasses to the phrase "Belinda Blinked!".
The premise of a live podcast show can sometimes be a little awkward - after all, the shows are edited, so it can be tough to see whether they will work on stage in front of people. For MDWAP, Jamie brought along a lost chapter of one of the books to read out and only fans will understand how amazing and exciting that is! Although I knew logically in my head that the whole thing was rehearsed and planned, it still had that wonderful fresh improvisation quality that I love about the podcast. Honestly, the transition from audio to stage was seamless and none of the funny was lost - their acting (ie., pretending to be surprised by "twists" in the plot) was absolutely flawless!
The chemistry of the trio is such a joy to watch that I'm sure I'm not the only one in the audience who wants to be best friends with them! Jamie is the straight man, and Alice and James offer hysterical quips, awkward actions and at one point, a science lesson about the cervix.
Alongside the reading of the chapter, and the drinking game which often accompanies MDWAP there were a few asides that were fun although did change the pace a little. Two ladies were invited onto stage to re-enact what was happening in the book, more for a visual reference than anything as Rocky's writing can be quite confusing at times! This was a little cringe, but that's what the podcast is all about. There was also a Welsh lady in the audience who was asked to read in for a Welsh character as Jamie's accent was horrific.
This was easily one of the best things I've been to see, particularly due to atmosphere. It was like being at the pub with your (much cooler, much funnier) best friends although as a driver I did miss out on playing the drinking games properly! The night felt like it ended far too soon and I won't hesitate to book tickets again.
If you are not a fan of the podcast, you wouldn't have enjoyed tonight, but really, it's a great show so you should get listening! For 'Belinkers' it was a wonderful dream come true, especially for the guy who won a non-stick wok!
Reviewer: Codie Louise Wright
Reviewed: 20th October 2017
North West End Rating: ★★★★★