It must be such a hard task to remake a famous film into a stage show; the pressure of making sure it lives up to the big screen counterpart ,the nightmare of trying to scale it down and fix its nuisances, it's no small task.
Well imagine how much more pressure and work is involved when it's one of the most iconic British films ever made, like Nöel Coward's Brief Encounter.
Well there is now a stage adaption of that very movie and I couldn't wait to see it and it certainly did not disappoint.
Directed by Emma Rice, this production is not brand new having already toured Broadway and Europe but its back and its staying power proves it's not just a flash in the pan, and that's because it truly is stunning, in every way.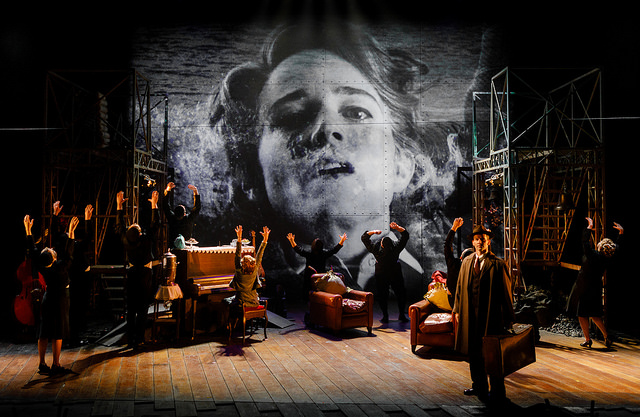 Everyone knows the story of Brief Encounter but Kneehigh Productions immediately transports you straight into the heart of the story; to a cinema in the 30s with the lead characters Laura and Alec played by Isabel Pollen and Jim Sturgeon sat on the front row. The pair have fantastic chemistry on stage throughout and right from the very first moment, you are hooked by those gazing looks and awkward silences the pair share. With a cast of just ten, they present a wonderful one act show; special mention should go to Beverley Rudd who plays Beryl/Dolly and Dean Nolan who plays Fred/Albert - the pair's comic timing is utter perfection with a razor sharp script, it adds much needed touches of humour while carefully not losing the main focus of the story.
The staging for this production is very clever and although at first glance seems fairly simplistic, it features moving screens, descending bridges, wirework, projections and puppetry to deliver a slick Broadway worthy show. I especially liked how the cast members could step into the screen to appear on the footage, with a film as iconic as Brief Encounter, it was nice to see what felt like a subtle nod to what made this story famous. I'm going to say it because I just have to, I personally preferred this stage version to the original film; there was even more of that emotion and raw passion than you get by watching the original, but also new layers to the story and new humour which compliments this delightfully gripping story.
The band performed the soundtrack live at the side of the stage and with added musical numbers; it made the production feel even more authentic, it felt like a totally fresh idea while being based on something so familiar to so many.
Verdict: A sheer Triumph, A Treat for all the senses!
Reviewer: Max Eden
Reviewed: 20th February 2018
North West End Rating: ★★★★★