This evening I witnessed an extraordinary and unique adaptation of the Little Mermaid from the award-winning Metta Theatre.
Not knowing what to expect, I entered the theatre assuming this would be somewhat similar to the Disney film I watched as a child. On the surface, this stays true to the typical mermaid meets mortal and the 'love at first sight' essence however this production presents many spellbinding diverse layers under that initial surface.
The instant sensation through the music to create the feeling of being under water, the physical movement and pace was brilliant from the very beginning.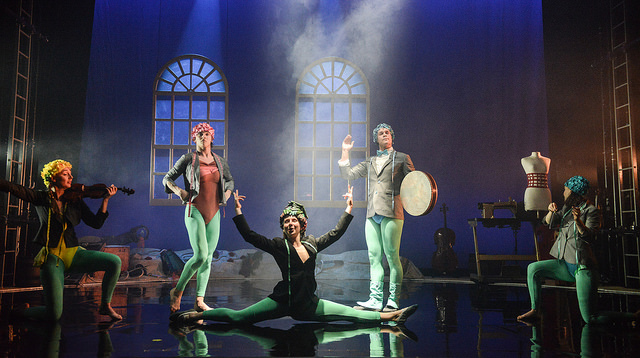 Whilst a cast member was playing a violin upside down to another singing with someone stood on their head, it is fair to say Metta Theatre told the renowned love story through serious artistic flare. Although the production on a whole was a positive burst of sheer imagination, the songs certainly were not matching to the level of the rest of the show.
The elegance, fluidity and strength from all of the performers was sublime and effortless throughout. The set was minimal however the combination of circus techniques, acrobatic skills and physical movement was astounding.
Metta's Little Mermaid was imaginative beyond belief and ultimately a bold, daring experiment within the theatrical styling. The production was executed with finesse and exuberance by all members of the ensemble.
Metta Theatre have created a powerfully potent piece of theatre that is filled with spectacular visuals and creativity, but do not expect to hear your favourite Little Mermaid Disney song.
This piece of theatre is not to be missed so 'dive in' and purchase a ticket!
Reviewer: Heather Errington
Reviewed: 10th April 2018
North West End Rating: ★★★★