Before taking our seats, we circle the stage single-file. In the centre, two bodies are twisting and reeling within a powdery white circle. The performance that follows is a sensory explosion of music and movement, thrashing together as equal and powerful partners.
Humanhood's Zero is a captivating, thoughtful production that engages subtly and unexpectedly with creation, cosmology and consciousness. Its big themes are not only scientific but philosophical; mysticism dictates the expression as much as physics, meditative prayer as much as action.
Mesmerising and wildly expressive choreography incorporates both the smoothest fluidity and the tensest conflict. All muscle and sinew, Rudi Cole's and Julia Robert's bodies are vehicles of communication. They are character-acting the universe's first atoms.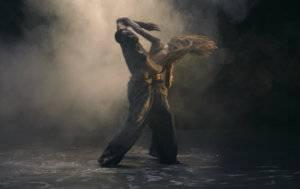 Barcelona-based Horne Horneman guides this exploration with his highly effective lighting design that supplements moments of mystical epiphany and physical action, creation and collision. A cone of yellow light places Rudi in tepee-like shelter during moments of quiet spirituality, while highlighting just the circle emphasises Julia's ritualistic movements around the space, caressing its line with worshipful commitment. The horizontal spotlight of the opening cleverly transforms Julia's balancing writhing form into a floating embryonic being held magically in the centre of space.
Intrinsically influenced as Humanhood is by astrophysics, this curiosity is communicated through a very human experience. Sonic and visual references to the sea and birds, however distorted or digitised, exist alongside robotic movement and transport sounds. Humanhood is playing with the dichotomy of nature and technology, while suggesting that all things speak to each other and exist as one.
The soundscape of Zero leaves you with a feeling of being dwarfed by the universe. With original music from five composers, brought together by Iain Armstrong's sound design, the sonic effects are epic. Paradoxically, Zero's cosmic setting is as grounded on earth as it is floating in the atmosphere, just as synths combine with string drones and Eastern percussive beats. The surround sound effect, especially in a small studio space, simply magnifies the immersive worldly and other-worldly experience.
Humanhood's first full-length duet, Zero deserves its award-winning status for creating a beautiful world of energy, spirituality and life. A bold embodiment of symbiosis, Zero is a multi-sensory experience with a disorientating effect: it challenges us to locate, to explain, to experience, and ultimately to explore.
Reviewer: Eve Ryan
Reviewed: 18th April 2018
North West End Rating: ★★★★★