I was introduced to Gilbert and Sullivan's operettas by my parents and over the (many) years have seen various versions of most of their works and can sing along to the majority of their 'greatest hits', so to speak. However, I have only ever seen one production of Ruddigore. It certainly isn't one of the better known or better loved G&S offerings, so I was particularly interested to see the production by Sale G&S at the Aldridge Studio at the Lowry.
The plot is pure Victorian melodrama – innocent heroine, fiendish villain, ghosts, and madness – but somewhat turned on its head in that the wickedness of the bad baronets of Ruddigore stems not from any innate dastardliness, but from a curse placed upon the first baronet by a witch, who doomed each incumbent of the title to commit one dreadful crime each day of their life or die in untold agony. Current baronet, Ruthven (the excellent Stephen Othen), is missing presumed dead, having fled, leaving his brother Despard (Anthony Noden), whose subsequent crimes involve jilting and driving to madness his beloved Margaret (Valerie Green), to deal with title and curse.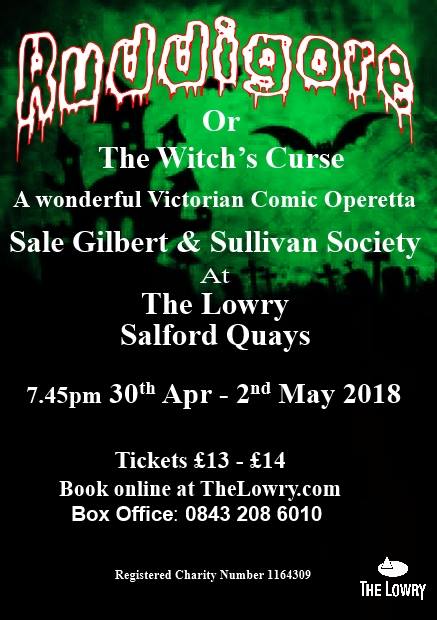 Ruthven meanwhile, is in love with village sweetheart, Rosebud May (sweetly sung by Helen Fieldsend), but is too shy to tell her, while she is too governed by the rules of etiquette to tell him how she feels. The plot thickens when Ruthven's foster brother, skirt-chasing sailor Dick Dauntless (Daniel Metcalfe), also falls in love with Rosebud May and in order to scupper Ruthven's chances, reveals his true identity. The stage is set for tragedy, but stand by for a twist to match the best in any of the G&S repertoire.
Sale Gilbert & Sullivan Society have done everyone a favour by choosing this underrated operetta as this year's production. I never cease to be amazed by the wealth of talent on show in non-professional productions, and this is no exception. A skeleton orchestra (in more ways than one – be vigilant after the interval!) provides just the right level of accompaniment to the singing. Some voices are stronger than others - Anthony Noden as Despard and David Parker as the ghostly Sir Roderic Murgatroyd can sing and cape-swirl with the best of stage villains while Valerie Green's performance as Mad Meg is excellent on all levels –but all roles are delivered with a level of commitment and professionalism that does justice to G&S's original vision, with special recognition for the chorus of professional bridesmaids.
In a few of the quicker songs, some of the humour is lost, as it's occasionally difficult to catch the lyrics, but I have seen professional companies struggle with this, and it is more than compensated for by the humour elsewhere, with retainer Adam (Bobby Greatorex) producing a tea-serving scene with the understated comic element reminiscent of Victoria Wood, and the duet between the reformed Despard and Meg an absolute jewel. Musically, for me, the outstanding moments were the choruses, when the harmonies were allowed to soar, especially when the whole company was on stage together, and the singing was matched by the excellent choreography.
The simple but effective set and the lighting are perfectly suited to the size of venue and enhance the action at every turn. So while not as well known or as well-loved as some operettas, there is plenty to enjoy in Ruddigore, and it certainly deserves to be better known, as this charming production makes abundantly clear.
Reviewer: Johanna Roberts
Reviewed: 30th April 2018
North West End Rating: ★★★★