I enter the theatre with nervous in trepidation we are entering backstage after being held with the rest of the curious audience members in a waiting area. Led through several dark corridors past a wheelie bin full of foil balloons into a lino clad kitchen area (think 1950's gaudy flowers) a kitchen set and a room full of wooden chairs of all shapes, I'm convinced I'm going to be required to make a total fool of myself.
If this wasn't bizarre and brilliant enough there is a miniature jam tart on my seat, which I am uncertain as to whether to wolf down or wait to see what others do.
This is Chef Nigel Slater's 'Toast' the play of his book as part of the Lowry Theatre's coming of Age theme for Week 53. For those who don't know Week 53 is Lowry's Festival for the 'compulsively curious,' where a plethora of international artists aim to challenge convention.
The cautious audience are seated as to feel like they are sitting in the young Nigel's family kitchen.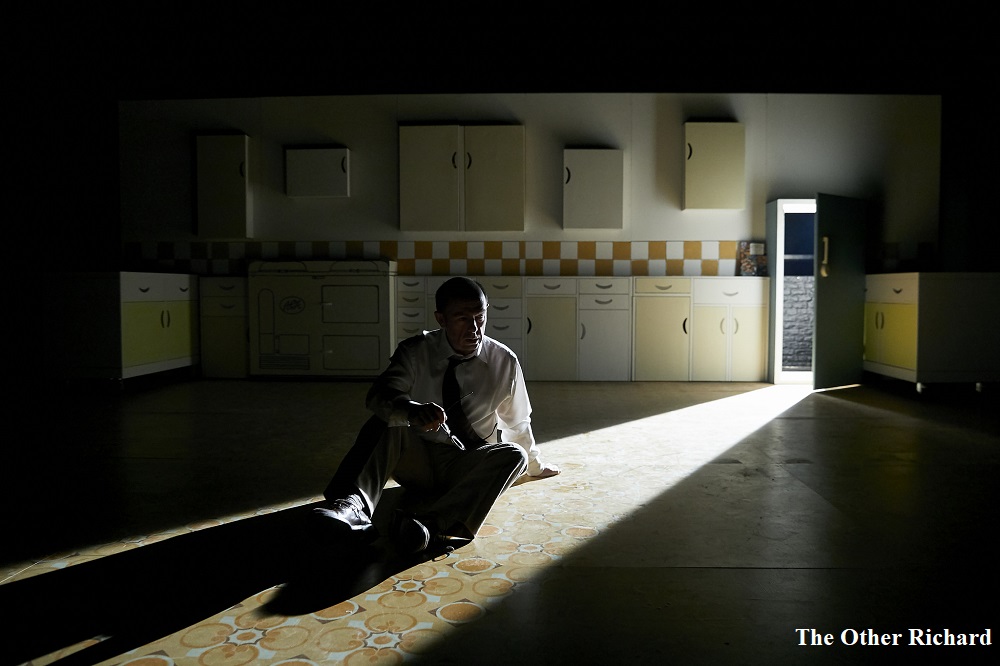 The smell of cooking wafts through the air and we are immediately bombarded with ' I feel the earth move,' blasting out and an array of butlers, chefs and maids swirling round with jars of jam and we wonder what is to come.
What does come is a tender and heart-warming display of a mothers' love, translated via food, sensitively played by Sam Newton (Nigel) and Lizzie Muncey (Mum). She puts a brave performance of Nigel's mother who struggles to balance a busy housewife life with a debilitating illness.
As heart-warming as it is Toast is also hilariously funny. The characters are reminiscent of relatives we all know. We sit through a cringe worthy Sunday lunch, trying out new foreign foods, such as spaghetti and percolated coffee and a trip to the seaside where old fashioned English niceties are coined to a tee.
Aunt Fanny is played by Marie Lawrence who brings an eccentric Aunt to life with perfect comedy timing. She is wheeled around in her chair as her fellow actors use cupboards and other props creatively and what seems to be a theme in a lot of plays currently leaning towards the physical theatre style.
Marie also plays Joan who appears in the second half of the play as Nigel's rather shallow step mother who is obsessed with cleaning. This is an enigmatic performance where the play explores traditional roles of masculinity and femininity and makes you think.
I was encapsulated by the dance routine to the 'cake war' (a brutal, blatant act of war) between Nigel and his Aunt where over the top routines by the cast were delivered with great aplomb to the Music of Psycho Killer by Talking Heads.
By this time I had devoured my own lemon meringue (delicious). Several bags of toffees and a walnut whip, (no need for supper) all expertly handed out by the actors.
Toast was a brilliant smorgasbord of immersive experience at the theatre. https://www.thelowry.com/events/nigel-slaters-toast
Reviewer: Rachel Foster
Reviewed: 30th May 2018
North West End Rating: ★★★★