Agathi is in Manchester's Lowry Theatre for one night only, performed by Asparas Arts a group of dancers who are dancing a relatively new piece for the stage, highlighting the plight of displaced people from around the world in three acts.
The theatre company started in Singapore in 1977 and they are also part of Milapfest whose mission is to 'unite hearts through (Indian) arts.
Pre show the companies' artistic director Aravinth Kumarasamy briefly introduces the night and informs that it was initially inspired by A Book of Poems: Expressions From our Youth, written by child refugees which is a thought provoking moment. Agathi he says, is also going to be 'anchored in emotion.'
The performance is part traditional 'bharatanatyam' dance combined with music and poetry. Danced by six artists, normally it would be a solo routine and more rooted in mythology, whereas tonight it's bravely taking on more contemporary issues such as the prejudice and misunderstood refugee.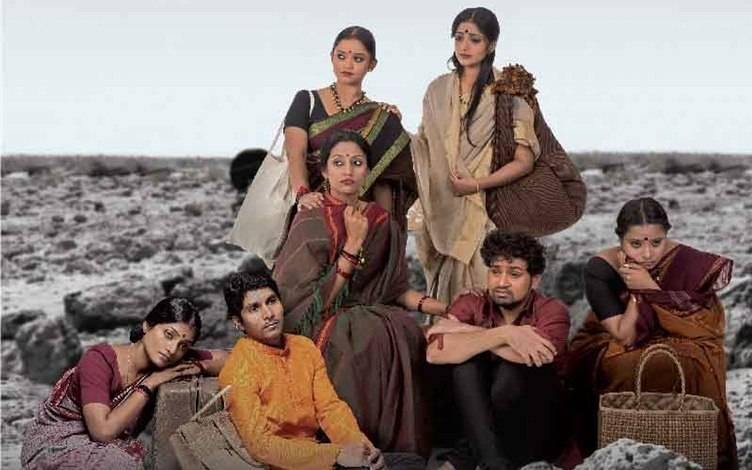 Act One warms the hearts with the dancers emotive expressions and movement used to convey the warm safety of home and a mothers' love. This is done with great charm and finesse and captivates the audience. There's playfulness and cheekiness in their movements too.
Into Act 2 the journey follows one of natural disaster as they mimic a tsunami and an earthquake, reminding us that it's not always war that can force people to migrate.
What is unique about Asparas Arts use of Indian classical dance is how it is so successfully expressive in denoting pain and anguish with subtle combination of body, hands, feet and face.
The search for a better place scene and the boat scene were spectacularly memorable. Bodies came together to create powerful imagery that brought it so close and personal. When you see clippings on the news it doesn't always convey so closely what the people are going through. This definitely brought it home.
From the raucous and tumultuous conflict comes the slower lamenting, where the dancers' heart rendering illustrations of the pain and slow realisation of loss. It's subtle yet extremely effective and mesmerises and haunts you.
In between each act is a narrator reading from a book, she tells us that to dance is to 'show life's beauty.' Out of all the tragedy, dance is a way to still create something beautiful from the rubble.
There's an open chat with the audience post-play where scarily the lights are turned on us.
A unique opportunity for Asparas Arts to interact with their audience and it feels very inclusive and intimate.
We discover the names of the dancers. Incidentally only one male, who is on loan from a different company in India.
The audience express their gratitude for a wonderful visual spectacle and an utterly compelling performance, there's surely more to come.
Reviewer: Rachel Foster
Reviewed: 12th June 2018
North West End Rating: ★★★★★