The National Theatre's acclaimed production of War Horse is trotting its way around the UK as part of a major tour right through until April 2019.
Based on the beloved novel by Michael Morpurgo and adapted by Nick Stafford War Horse returns to The Lowry Theatre until the 30th June 2018.
The plot is a spectacular tale of friendship, companionship, loyalty, great courage, fear, and terrible suffering that keeps the audience attention gripped throughout this two and a half hours performance - where you will go through a rollercoaster of emotions of happiness, anger and frustration, love and affection, sadness and despair as you are taken through Michael Morpurgo's adapted novel about Albert Narracott (Thomas Dennis) a strong-willed teenager whose beloved horse Joey is cruelly sold by his deceiving gambling drunken father Ted (Gwilym Lloyd) to serve on the bloody and senseless Battlefields of France in 1914 during World War 1.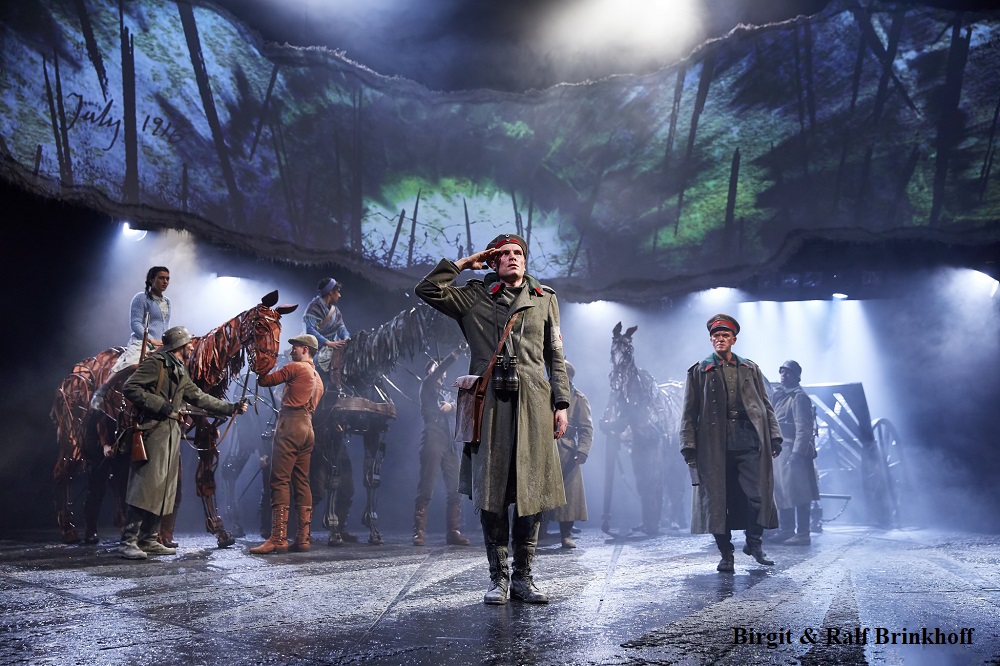 Much has been said and written about War Horse since in first premiered in 2007 especially regarding the world class puppetry by Handspring Puppet Company, before the premiere the world of theatre held its breath to see how on earth they could put a life-size horse on stage using puppets, but they certainly did and have won awards for their intricate design of these magnificent equine beauties of pure elegance and strength which are made up of just delicate wooden prosthetics and translucent fabrics skins. Joey and Topthorn are truly magnificent creations where you quickly forgot that you are watching actors control them, as a horse owner I am well versed and experienced on the mannerisms and characteristics of my equine brood mare so found myself watching with an critical eye but I have to say I was absolutely blown away by the perfection and complete accuracy right to the minutest of detail of how they never keep still, their ear movements, how they stamp their feet, exhale, their little twitches, the vocal noises they make and how they occasionally flicking their tails, even their gaits as they walk, trot , canter and gallop were foot perfect! It is not hard to become transfixed by the believability of the animals, but it is only when you see it for yourself that you can truly appreciate what everyone's talking about.
The staging was intricate and well thought out a huge credit to Stage Manager Sarah-Jayne Powell where we saw a projection screen designed to look like a page ripped from a sketchbook hovering above the stage displaying carefully crafted drawings of poppies, riding scenes, battle scenes and keys events from the ploughed fields of the West Country to the battlefields of northern France to face the Battle of the Somme enabling the crew to quickly move the storyline along and kept the audience abreast of what year it was.
With the injection of smoke-filled air, carefully crafted costumes that camouflage where needed and that were true to the period of the early 1900's, explosions and gunshots which I have to say was the only downside of the evening as they were far too loud and made the audience jump- I was on row O and was overwhelmed by the noise of the gunshots so was very grateful I was not nearer the stage, accompanied by snippets of haunting music and fantastic lighting this was spellbinding performance that combines technological brilliance to create something beautifully unique, sensational, believable and utterly engrossing.
At the end the audience were standing up in applause to show their appreciation to the brilliant actors who made this show so spectacular that left many leaving the auditorium with tears rolling down their cheeks.
This is most definitely theatre at its finest and I urge you to try and get hold of some tickets to see this epic show.
Verdict: "beautifully unique, sensational and utterly engrossing".
Reviewer: Katie Leicester
Reviewed: 13th June 2018
North West End Rating: ★★★★★