12th December 2015, an elderly looking gentleman was found dead on Saddleworth Moor. He was carrying no form of identification. Train tickets in his pockets showed he'd travelled 200 miles, apparently just to die. As the police went public with the man's image, 40 different people reached out to claim 'the man on the moor' as their missing husband, father or brother.
Max Dickins, the writer and performer, tells the fictional story of one of those people; A young man, Matthew, whose father went missing when he was 10.
This clever meddling of fact and fiction sets the base for a gripping hour of story telling.
Dickins is a grounded performer and a gifted playwright. His tone remains confident yet casual, and though his telling is a little monotonous this gives the piece honesty and I found him quite hypnotic to watch. As a writer he truly owns his words and style; delivering flowery metaphors in a way which is passionate without being pretentious. Dickens voices the other characters within the piece with range and skill so to me his low-key telling was a choice to add truth and weight to a powerful and unsettling story.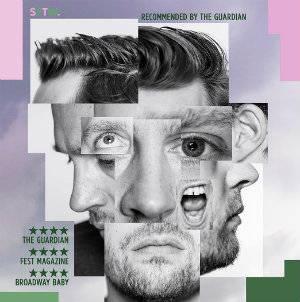 Dickins uses the mystery of the man on the moor to explore the wider issue of missing persons and the effect they leave on those left behind. This opens up a fascinating exploration of character and our understanding of the people we believe we know and are close to.
Through Matthew's eyes we meet those in a support group for relatives and friends of the missing, each dealing with their loss in different ways.
The use of projection within this piece adds the feel of a lecture: Seeing images of what we assume to be a young Matthew, real CCTV footage of the man on the moor's final journey north and self-portraits painted by Matthew's father. These were used to great effect, fact and fiction side by side, sucking us in and allowing the audience to become more invested in both stories. The only use of this projection that I didn't like were videos of the eyes and mouth of Matthew's mother and her pre-recorded voice. Dickins had voiced the rest of the characters and I would have preferred him to also portray his mother. I found the recording quite unnecessary and momentarily pulled me out of the spell cast by being guided through a story by one voice, the beauty of a one man show.
Comic relief was found through the descriptions of Matthew's mother's new partner Colin. A man whose jumpers flat pack his breasts, who adds chives to scrambled eggs and prefers a 'Nordic aesthetic'. We all know a Colin and this light observational humour with a satisfying character round up was a lovely touch.
This was the last night of the tour but I'm excited to see future work by Max Dickins, as both a performer and playwright he's certainly one to watch.
Reviewer: Robyn Grant
Reviewed: 16th June 2018
North West End Rating: ★★★★