When is a film not a film? When it's a Notflix Musical....because everything is better as a musical, according to the all-female cast of Notflix – and I completely agree with them! Notflix is a totally improvised theatrical experience and each show is unique.
On entering the auditorium, each member of the audience is provided with pen and paper and asked to write down a film they have seen recently, together with a brief outline of the plot. The cast then bound down the auditorium stairs onto the stage and give us a very enthusiastic and warm welcome before two suggestions are drawn from 'The Bucket of Destiny' and the audience have to decide which one will be given the Notflix treatment. Tonight's choices were 'Captain Phillips' and 'World's End' - the latter winning the vote. The person who suggested the film is then asked about the main setting of the film, key scenes and what the overall uplifting message of the film is.
The cast then launch straight into the opening number, which tonight was "Be Yourself" and my theatre companion and I were singing along after just a few bars of music, it was so catchy. We were immediately immersed into musical theatre magic with choreography and songs which were instantly upbeat or soulful, reflective ballads ("Your Life is Like a Pint of Bitter"…"What Makes A Human").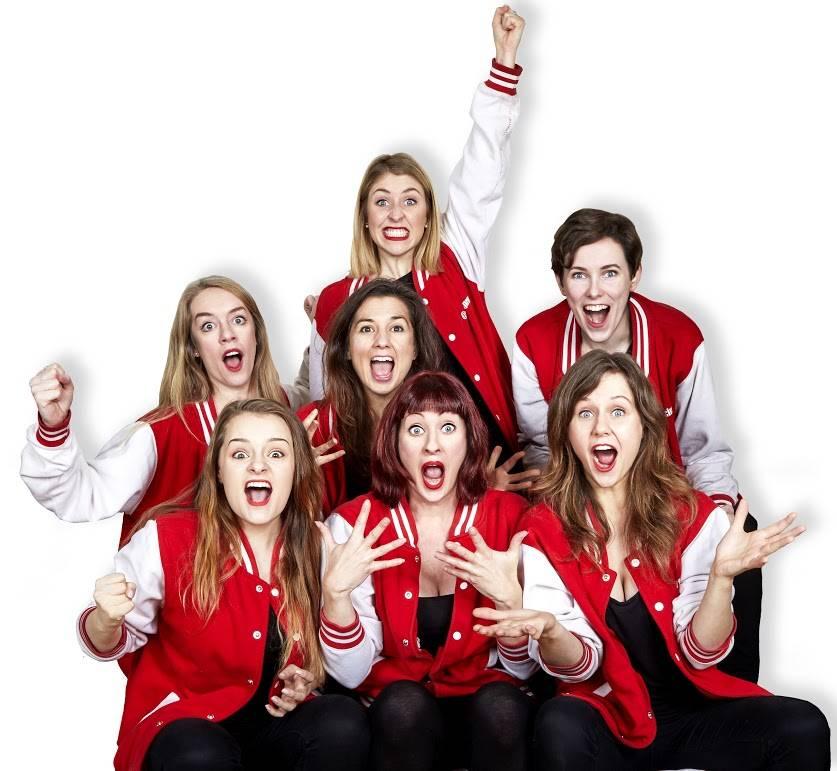 What I really liked about Notflix was the cast. Unfortunately I can only name two of the five as the website doesn't seem to show all of tonight's performers. So thank you to Clare Buckingham and Ailis Duff and apologies to the other three wonderful ladies for not naming you.
A huge amount of credit must go to the keyboard player whose name, sadly, I don't know as he isn't credited on the Notflix website either. He is the unsung hero of Notlfix, providing the soundtrack and making everything sound theatrically authentic. I tried to see whether there were any secret cues given by him to the cast or vice versa about when to slot a song in but it just seemed to happen seamlessly so I'm none the wiser!
The whole cast is instantly likeable with no airs or graces and they are fantastic entertainers. Just thinking about what they were doing brought me out in a bit of a sweat but they carried off the improvisation without hesitation or pauses. There was a slight bit of corpsing at one point which just made it funnier. I loved the interaction between everyone and the way that at various times, three people made themselves the ensemble while the other two assumed lead roles – the ensemble providing hilarious yet very well executed choreography in the background.
All the cast assume different roles and characters which showcases their amazing versatility and ingenuity. I don't know how they do what they do or whether they have some unspoken understanding/telepathy but they work brilliantly as a team and produce something quite remarkable – each night! It is clear that they all take the lead from each other and I liked the way that everyone has a turn at taking a lead role and launching into a song.
A nice touch at the end was that all the cast bounded out of the auditorium to meet and greet the audience and hand out Notflix badges. If it was me, all I'd have wanted to do was lie down in a darkened room after all that!
Most musicals work on a basic theme: an underdog who struggles against adversity to emerge a hero with an underlying message that self-belief and integrity always win through. Along the way there are silly songs, sad songs, usually an outstanding ensemble number and always a rousing finale. "World's End the Musical" had all of these, as well as all the angst, silliness and joy of a musical.
There were some hilarious moments tonight and I'm really glad I was present at the world premiere of "World's End the Musical".
'Notflix' will be at the Edinburgh fringe for the whole festival so do take the opportunity to see a little piece of theatrical genius if you can. https://www.notflixthemusical.com/
Reviewer: Nicky Lambert
Reviewed: 5th July 2018
North West End Rating: ★★★★