Tosca the Opera in three acts with Music by Giacomo Puccini came to the stunning Lowry Theatre in Salford, first performed by Opera North in November 1979 in Leeds returned to the North for one night only to deliver this classic Opera sung in Italian (English translations projected either side of the stage) of 'Secrets', 'lies' and a 'lethal ultimatum'.
Tosca is a story of overwhelming passion amidst the perils of war set in Rome at the time of Napoleon's advance on the city. The opera opens with the flight of Cesare Angelotti (John Savournin) an escaped political prisoner who seeks refuge in a chapel where he is protected by Mario Cavaradossi (Rafael Rojas) a local artist who is also the lover of the famous provocative singer Floria Tosca (Giselle Allen). Her lover acts suspiciously while protecting his friend and activist Angelotti then Tosca thinks jealous thoughts believing him unfaithful with another, the chief of police Baron Scarpia (Robert Hayward) plays upon her jealousy in order to locate the two men who are hiding in Cavaradossi's hidden woodland villa. Angelotti takes his own life rather than be held prisoner and Tosca desperately begs Scarpia to spare Cavaradossi but in exchange for his life he wants her affections, after securing a note saving her lover from his death sentence, she stabs Scarpia and hurries off to be with Cavaradossi. Tosca finds she has been tricked and her lover dies at the hands of a firing squad, facing capture for her crime she leaps to her death to join her lover in the afterlife.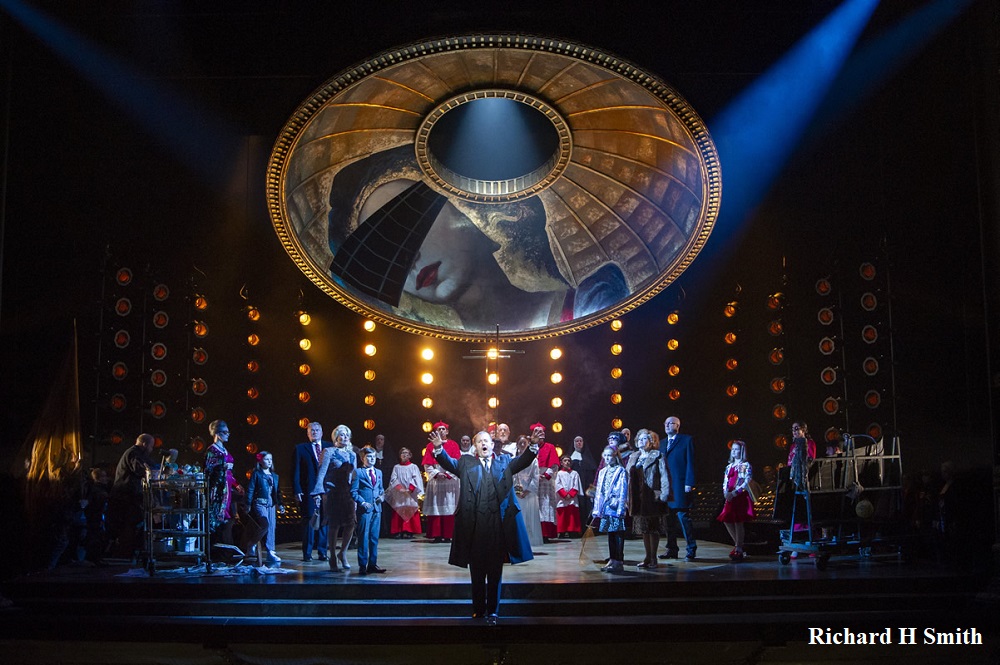 Tosca is one of the world's most popular Puccini's Opera's which is filled with love, lust, cruelty, self-sacrifice and murder which portrays human relationships at their best and very worst.
Opera North has had a successful run over the years at the Lowry with Salford audiences and this was very visible tonight as the auditorium was packed with eager opera fans and not a single seat spare. The audience have come to expect an evening of high elegance, spectacular colour, sensational staging and phenomenal costumes, and as usual this magnificent company delivered on every level.
This production directed tastefully by Edward Dick and set design by Tom Scutt is an optical joy with its impressive architecture of an 1800's chapel in its finest glory, Scutt's sophisticated set was utilised perfectly throughout the three acts creating the essential ambience for this dark opera from the grandiose chapel, to the intimate bedroom and finally the torture chamber where the performance concludes enhanced by the brilliance of lighting design by Lee Curran which cast incredible elements of lustrous light and shade across the set and staging from beginning to end.
Opera North consistently presents their own interpretation in classic operas and exhibited a fantastic modern slant by the use of costumes that emulated the modern era with jeans, school uniforms and dresses, and in the scene where Tosca is invited to watch her lover's torture not through a window but on a video link via Scarpia's laptop as he looks at his own android mobile phone. Also when Cavaradossi faces execution following his torture he is given an orange jumpsuit to put on similarly to those used in modern day prisoners of war in the likes of Syria, all of which created a stunning mixture of authenticity and modern day as Opera North does so admirably as they have the ability to make a 1800's classical opera feel current and contemporary.
Accompanied by the skilfully accomplished chorus of Sopranos, Mezzos, Tenors, Basses and the outstanding orchestra of Opera North's all contribute to a splendid night of pure grandeur and gentility.
Well done to all involved and I look forward to Opera North's next performance of The Merry Widow for their second evening at The Lowry Theatre in Salford.
Reviewer: Katie Leicester
Reviewed: 14th November 2018
North West End Rating: ★★★★