The Pendleton Sixth Form College Season of Shows continued tonight with a truly festive treat in the form of Scrooge The Musical written by Leslie Bricusse and based on the Charles Dickens' novel, A Christmas Carol.
Pendleton don't do things by half, and tonight the staging matched the talent, both were mesmerising from the moment the house curtain parted and signalled the moment, for me, Christmas began. Director Joseph Meighan has created a joyous piece of theatre.
The title role of Scrooge is not the easiest to pull off in musical theatre. On stage for the majority of the night Dominic Gannon owned the stage displaying the misanthropic and tight-fisted persona of the banker who has one love in life, money. Gannon's portrayal of the character was superb and the transition of such from the start to the end of the show was measured and well judged.
Owen Murphy as Scrooge's ex business partner and now no longer on this planet, Jacob Marley for me had a little too much energy for an elder. Notwithstanding that Murphy gave a solid performance.
The spirits that visit Scrooge at 1am, 2am and 3am respectively are all a joy to watch. There is an air f innocence about The Ghost of Christmas Past (Emily McAvoy) as she took Scrooge back to his childhood. Coupled with a beautiful voice McAvoy was a standout performer tonight.
The Ghost of Christmas Present played by Rohan Jenkins was as bubbly and jovial as you'd expect as he attempts to bring joy into Scrooge's life. A powerful vocal added to the presence of this character.
Finally the Ghost of Christmas Yet To Come was played by Jasmine Flaherty who was larger than life and glided across the stage gracefully as she gave Scrooge a view of what would come to him if he didn't change his ways.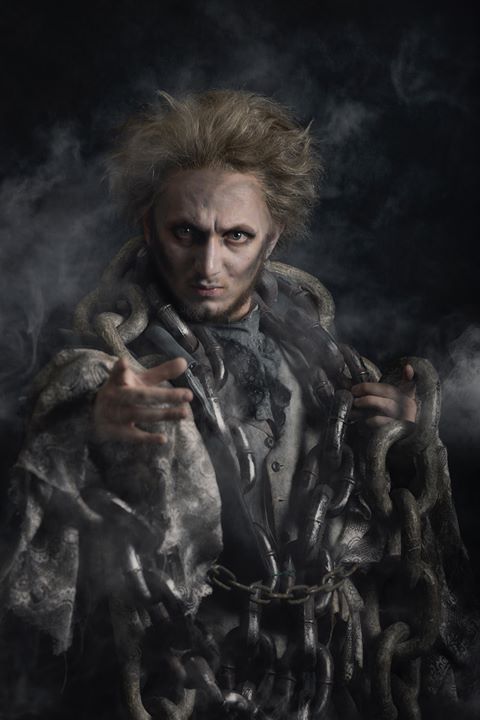 The Cratchit family all played their roles with great heart and you really did feel their pain at trying to survive on little money or hope. Bob (Danny Sherratt), his wife Mrs Cratchit (Charlotte Kraunsoe) and Kathy (Alex Waxman) all striving to care for young Tiny Tim which Jasper Clark portrayed with a confidence and stage presence way beyond his years.
A sizeable ensemble sung and danced throughout the show showcasing some wonderful choreography from Hannah Birch and Louise Pettitt. With a stand out performances from Marley Fenton and Zeinab Al-Jeddal, every number was of a very high standard and many could have graced a West End stage.
It wasn't just the set and the cast who shone tonight. There were a number of clever illusions incorporated into the scenes which all made to heighten the tension as Scrooge tried to settle down to eat his supper.
Last, and by no means least an 8-strong band were sandwiched between the stage and audience under the direction of Neil G Bennett and sounded magical throughout.
One or two minor sound issues prevented some of the dialogue from being heard clearly at times. However, this was the first night of an intensely complex production and I am sure will be addressed before tonight's performance.
Scrooge is not an easy show to take on for professionals, amateurs or students but Pendleton grabbed it by the horns, ran with it and crossed the line with a winning production that will have you laughing, crying and tapping your feet to the catchy score.
Reviewer: Paul Downham
Reviewed: 11th December 2018
North West End Rating: ★★★★