Dr Dolittle is a well loved children's story and musical, the story by Hugh Lofting and the 1967 movie starring Rex Harrison. Tonight it's brought to life at the Lowry in Saford with a modern slant by director Christopher Renshaw. Will it dazzle will it excel? Will it please?
The opening scene does just that with a set design by Tom Piper it's totally breathtaking. The set is vivid with swirling illustrations and pages of a book so giving the impression that the story has come alive tonight with all its characters. And of course there are the puppets. Designed by Nick Barnes they are given life of their own with puppet masters behind them controlling their movements. This might sound like an off putting concept but it works fabulously. Almost at once you forget their presence. Polynesia the elaborate feathered parrot is brought to life by Vicky Entwistle (Coronation Street).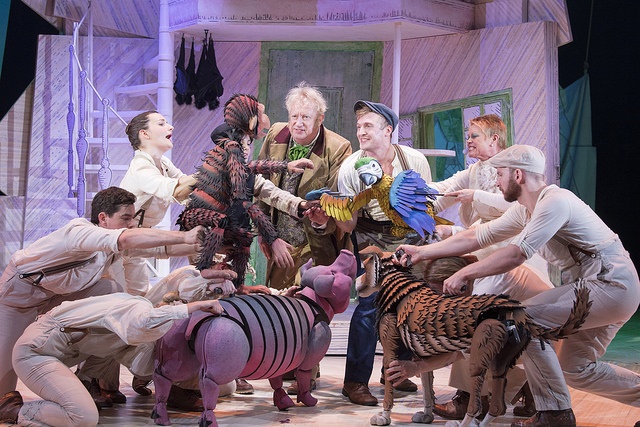 The cast interact effortlessly with the set and the puppets, seamless choreography by Josh Rhodes. The set is in fact what can be described as open plan, a bedtime story with a slant of New York City in the form of scaffolding either side that cast zoom up and down and at one time I notice the orchestra in there. Lady Bellowes played by Adele Anderson is comic timing hilarious, yes she's the baddy – not a friend of the animals but she plays this role with witty aplomb. Dr Dolittle is exasperated by her and little sympathy for her gout, and her demanding whining, thus illustrating his preference for the animals and his trip to find the Pink Sea Snail.
Mark Williams stars as the Doctor himself. He is perfect for the role, bringing excellent vocal qualities and acting, you may not expect him to burst into song being better known for The Fast Show, but he took to it like a duck to water. Emma Fairfax played by Mollie Melia-Redgrave also packs a powerful punch with her astounding acting skills and fabulous vocals particularly noted on Impossible and her duet with Matthew, Something in Your Smile.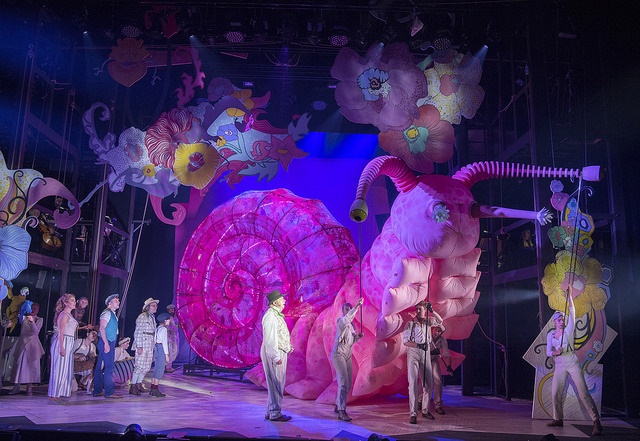 Leslie Bricusse's musical score has been brought up to date for a modern audience, with additional songs and more emphasis placed on the welfare of animals and our responsibility as humans not to let them down. Extremely current with all that's in the news about Rainforests and global warming.
The puppets really excelled, the entrance of the Sea Snail in the second half was astounding, and I certainly had never seen anything like it in my life. How on earth they kept it backstage is a miracle, and then to see lovers Matthew and Emma climb inside was awe inspiring. There's been tremendous thought and tireless planning gone into this.
Brian Capron (Coronation Street) played a different type of role as Albert Blossom the circus ringmaster, just one of many strong characters in this play. Barely recognisable but comically great with his unusual wife Olga. In the words of Dr Dolittle, 'all the best people are misunderstood,' and the same can be said for this wonderful production if it doesn't get great reviews.
Reviewer: Rachel Foster
Reviewed: 12th December 2018
North West End Rating: ★★★★★