'The Band' is a musical written by Tim Firth with the music of Take That.  Tim Firth also wrote 'Calendar Girls' for which Gary Barlow of Take That wrote the music and lyrics.
The story is not, as you may think, about Take That.  In fact, the band in 'The Band' are not the stars of the show particularly and are almost incidental (apart from the singing, of course).
The story begins in 1993 and we are introduced to five sixteen year old girls who are obsessed with a boy band.   Fast forward twenty five years when the band are on a reunion tour (but strangely look no older!) and we meet the girls again, now in their early 40s.   Cue much reminiscing and a fair amount of angst.
The band themselves are five performers (A J Bentley, Curtis T Johns, Nick Carsberg, Yazdan Qafouri and for tonight's performance, Harry Brown) who in real life won the television talent show, 'Let It Shine' to star in this new musical.   They aren't meant to look like Take That and they don't sound like them either but they give a very enthusiastic performance which certainly seemed to tick the boxes for the (mainly) female audience. The boys themselves are used rather cleverly – for example, during an airport scene, they become aircraft technicians (whilst singing).  It's very amusing and a novel idea. Look out for the beginning of the second act and keep your eye on the statues...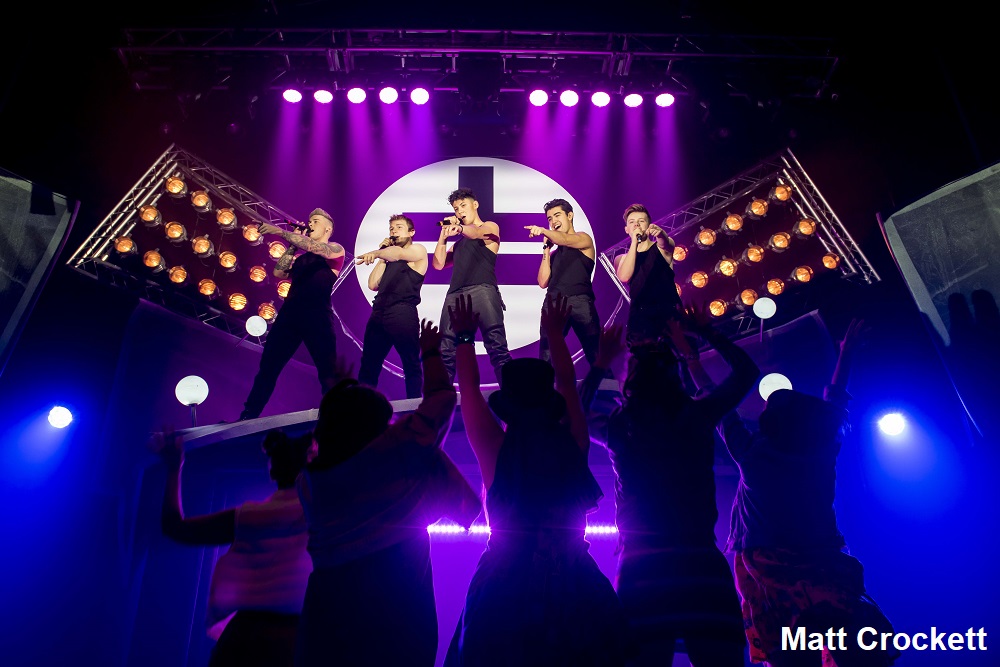 The musical high points for me were "Shine" and "The Flood" which were performed wonderfully and definitely hit the spot.
The five girls who play the sixteen year olds do this very well and successfully convey the youthful exuberance that only sixteen year old girls have.   At one point, after a night out to watch the band live, they have a meaningful moment whilst predicting their futures and they all proclaim that they will be friends forever and they won't lose touch.  Oh oh...if that isn't a huge hint that tragedy is to ensue, I don't know what is....
I must mention Martin Miller (who plays Jeff) and Andy Williams (who plays multiple parts).  They are the only men who speak during the show and they play their comedy extremely well.
Twenty five years later and after losing touch, the girls meet again after going their separate ways and they go and see the band in Prague for their reunion tour.    Much hilarity ensues but then there is also self-doubt and a lot of regrets...and sentimentality laid on with a trowel. The pathos is rather over-emphasised and I did find some of the narrative slightly cringey in parts. The points were made but they kept getting made again and again and it was overdone.
There is very good use of the stage and I liked the set and the way it was used – screens with projected film are used very effectively.
The choreography was good and I was reliably informed by my theatre companion who is a die-hard Take That fan that some of the routines were Take That routines and were executed extremely well. I thought some of the dancing was rather frenzied which meant it lacked an element of slickness but perhaps this was the intention.
This is an entertaining night out, albeit overly sentimental.   It's somewhat predictable: the older women mourning the loss of their younger selves but eventually accepting who they are now.  It just tried a little too hard and became rather saccharin.
This is a show to enjoy on a girls' night out.  It's entertaining and not to be taken too seriously.   It's hugely crowd-pleasing and there's nothing wrong with that.
The finale was fantastic and an undeniably feel good way to end the show, despite having to wade through a lot of syrup to get there!
To use a much hackneyed catchphrase, it is what it is...but it does what it does quite well.  Just be ready for a metaphorical sugar rush.
Reviewer: Nicky Lambert
Reviewed: 16th January 2019
North West End Rating: ★★★