It's not often you go to the theatre having no idea what you're going to see. With Showstopper, the only guarantee you have is that it will be a musical. The subject and songs have not yet even been thought of...never mind rehearsed.
This is an exciting concept which has been around since 2008. It is an Edinburgh Fringe Festival sell out and has had two successful West End tours, as well as national tours. It seems we can't get enough of musicals. Even ones which haven't been created yet!
The premise is that the audience are the writers and we have to come up with a new musical for 'The Producer', Cameron. Thus the musical theatre jokes begin!
The audience are encouraged – by the very funny and charismatic host, Sean McCann – to first of all think of a setting, then a variety of composers and finally a title. So tonight, in Salford, a select audience was present for the world premiere of.....
"Curd It Be Magic" - a musical set in a cheese factory in the south of France, with music inspired by the works of Gilbert and Sullivan, Lin Manuel-Miranda, Gary Barlow and....Lady Ga Ga.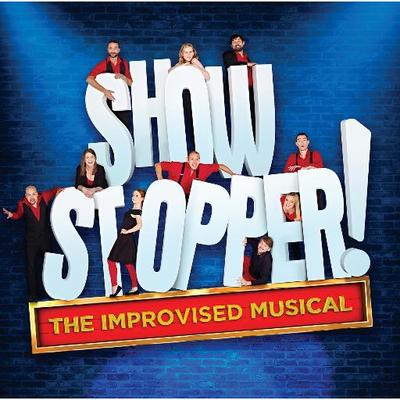 Don't be fooled: this is a proper musical unfolding before your eyes - except it's never been seen before and it will never be seen again. It follows the structure of most musicals: an often ludicrous story in which we meet the main characters going about their everyday lives, then a drama occurs which throws everything into disarray and the first Act ends with a very dramatic cliffhanger. The second Act sees more drama, romance, the characters resolve to follow their hearts and everything ends well. Oh and there are songs. They even manage to perform reprises of some of the songs...which is pretty impressive.
The audience are also encouraged in the interval to tweet their suggestions for how the second Act should unfold.
Tonight's five performers (Jonathan Ainscough, Ruth Bratt, Pippa Evans, Andrew Pugsley and Lauren Shearing) were fabulous. I really don't know how they do it as I can't believe this is something which gets easier the more you do it. I can only assume they're all adrenalin junkies. They maintain continuity throughout, remembering every detail so that it can be referred to later for comedic effect.
To be able to make up a song on the spot is pretty astounding but they all sing them as if they've been singing them for years, rather than seconds: there is no stumbling over the words, no hesitation or pauses and the songs really sound as if they've come straight from a real musical (no disrespect to "Curd It Be Magic" which of course was a real musical...tonight anyway). They follow the format of musical theatre songs perfectly and I did find myself humming along to 'cheese, cheese, try some of these' so they're even catchy like authentic musical theatre songs (and let's face it, there are a lot of long-standing musical theatre songs which make a lot less sense than 'cheese, cheese, try some of these'!)
The Gilbert and Sullivan style song was absolutely brilliant – it was unmistakeably an homage to them.
The whole point of musicals is that you have to suspend disbelief and enter the strange world where people burst into song at the most inopportune moments and belt out songs about the weirdest things and Showstoppers delivers this concept perfectly.
What I also liked was that in true musical theatre fashion, while some characters were singing, the rest of the cast were in the background providing accompanying choreography. I watched two of the cast who started doing a choreographed routine and mirrored each other perfectly – it was amazing.
The bulk of the humour comes from the fact that that we all know that this is improvised which is why it is so entertaining. I'm not sure how large an audience "Curd It Be Magic" would draw if it was a genuine musical but the attraction is the unexpected and the delight at watching these very talented people create something brilliant on the spot.
You do need to have some knowledge about musicals to appreciate the humour and the styles which are performed – but then someone who didn't like musicals wouldn't go to see an improvised one.
Although there were just a couple of brief points tonight where some of the tightness was lost and it flagged ever so slightly, this soon resolved itself.
Credit must also go to the musicians (Jordan Clarke and Alex Atty) who also have to think on their feet and I presume they decide when the songs are to be slotted in.
The versatility of everyone involved in Showstoppers is awe-inspiring. It was a thoroughly entertaining and memorable evening and it's a privilege to see these theatrical geniuses at work.
One thing for sure: Showstoppers will never get boring – how could it when it's a different show every night?
Reviewed by: Nicky Lambert
Reviewed on: 17th January 2019
North West End Rating: ★★★★