The world première stage adaptation of David Walliams' 'Billionaire Boy the Musical' continues its tour to Salford following its huge success since opening on 28th November 2018 in Nuffield Southampton Theatres, which marks Miranda Cooper and Nick Coler's first musical with musical supervision and co-orchestration by Ben Holder, set and costume design by Gabriella Slade, lighting design by Nic Farman, sound design by Paul Gatehouse, choreography by Tom Jackson Greaves and casting by Annelie Powell.
David Walliams is hugely associated in today's world with children's novels with his great success of over 14 books, making him the modern day equivalent of my childhood heroes Edith Blyton and Ronald Dahl. Walliams has made his novels not only child friendly but exciting and appealing to parents too, it seems that there is no end to this 47 year olds talent with his successful string of TV, Theatre and screenwriting followed by the swimming and cycling quests for Sports Relief has proven his place in the world of showbiz society as a force to be reckoned with.
'Billionaire Boy' is Walliams 3rd novel originally published in 2010 followed by a successful adaptation on to screen in 2016 has now translated triumphantly on to the stage as a magnificent piece of musical theatre.
Billionaire Boy portrays 12-year-old Joe Spud (Ryan Heenan) who is extremely wealthy as a result of his father's invention of wet/dry BumFresh toilet roll. Joe desperately wants to be an ordinary boy and fit in the world like 'normal' people and asks to enrol in the local comprehensive school much to his father's Len (Dean Nolan) bemusement as his place in the posh St Cuthbert's School for Boys was the best money could buy, but it wasn't enough for Joe as he is lonely and lacks friends because of his father's legacy of BumFresh making him the butt of cruel toilet jokes.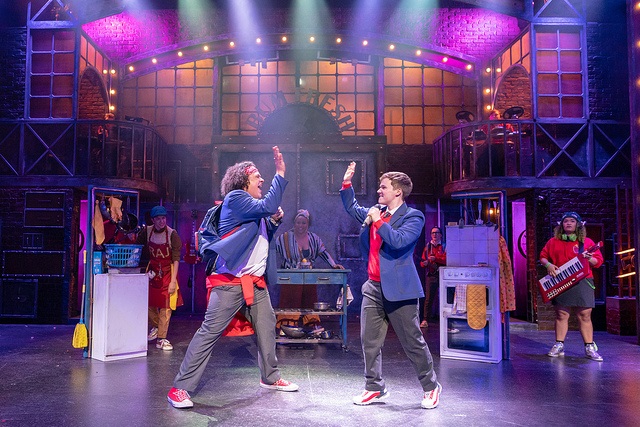 The show is full of fun, high energy, glitzy shimmering backdrops, outrageous flamboyant flashy costumes, a ridiculous succession of wigs, catchy songs, and larger than life characters creating a perfect combination to captivate the young audience and their parents.
Other main characters include Joe's new school friend Bob (Lem Knights), Bob's mum (Sophia Nomvete) newsagent owner Raj and Len's new girlfriend (Avita Jay), the Grubb bullies (Jared Leathwood and Natalie Morgan), Joe's heartthrob Lauren (Eleanor Kane) and the dinner lady Mrs Trafe's with her rather unappetizing stomach-churning lunchtime treats.
The production at first glance may seem to be a little silly and childish with its toilet jokes and funny storyline but actually delivers a deep moral lesson about how money is not always the answer to your problems and it certainly doesn't buy happiness, with the most important thing in life being family and spending time not money on them.
An outstanding performance from Ryan Heenan as Joe and Lem Knights as Bob who convincingly portrayed 12 year old boys with a powerful and heart-warming connection as friends, both guys had exceptional vocals which were just captivating to listen to. Incredibly funny but also tender and emotional moments throughout the show as their friendship developed with the phenomenal pinnacle duet 'All too good to be true' left you with the powerful message of true friendship.
Another fabulous performing duet was Dean Nolan as Len and Sophia Nomvete as Bob's mum as they brought so much fun and tenderness into their roles, producing an extremely moving scene as they sang to their new-born babies 12 years prior as the centre of their world and so many funny moments with their high energy and delivery throughout.
A massive well done to the creative team as they have produced an absolute golden nugget in 'Billionaire Boy' which ticks ever box for a fabulous family night out at the theatre filled with so much fun and laughter but equally delivers such an important message to our youngsters.
Billionaire Boy Billionaire Boy the Musical runs until Sunday 17th February at the Lowry Theatre then continues its tour to Coventry and Cardiff. https://thelowry.com/whats-on/billionaire-boy/
Verdict: An absolute Golden Nugget that ticks ever box for a fabulous family night out.
Reviewer: Katie Leicester
Reviewed: 14th February 2019
North West End Rating: ★★★★