Rough Crossing is a 1984 comedic play by British playwright Tom Stoppard, presented by Bill Kenwright and directed by Rachel Kavanaugh.
So let's set sail on board the SS Italian Castle for some fun and frivolity of the nautical kind...
Firstly, the set... In the first act, the two tiered set was simply stunning taking you right inside Turai's gloriously lavish cabin complete with its own deck and above it, the outside of Natasha's cabin...The second act, sees us the inside a rather lovely room with a white grand piano and patio set.. The props were in-keeping with the style and added to the piece well.
In the 1930s, successful playwrights Sandor Turai (John Partridge) and Alex Gal (Matthew Cottle), collaborators for twenty years, arrive aboard the luxury transatlantic liner SS Italian Castle, which is about to sail to New York, where they are to present their latest musical comedy, The Cruise of the Dodo. They are accompanied by their young composer, Adam Adam (Rob Ostlere), a former actor who was forced to end his stage career after contracting a strange speech impediment brought on by the return of his terrifying mother from prison.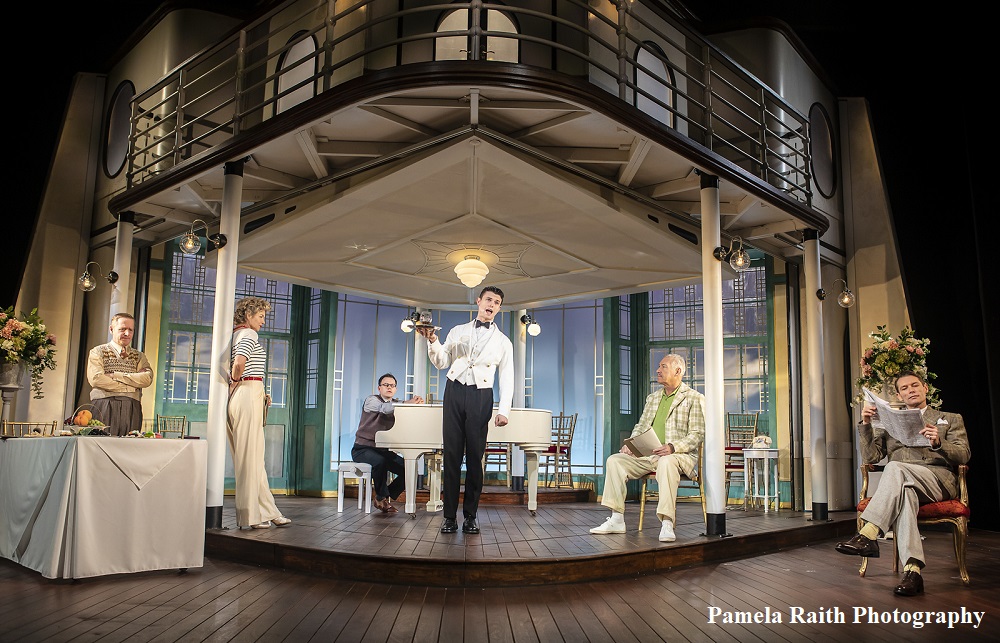 The three intend to surprise their stars, the glamorous actress Natasha Navratilova (Issy Van Randwyck) and the intellectually-challenged English actor Ivor Fish (Simon Dutton), with the latest song for the currently unfinished play.
Unfortunately, as they are preparing to surprise the two members of the cast, they are the ones who are shocked when they accidentally hear Ivor declaring his love for Natasha, his former lover, who appears to respond.
This is a bit of a problem for Adam, who, although ten years younger than her, is Natasha's fiancé.
The rest of the play sees Turai, Natasha, and Ivor (who would prefer if Mrs Fish didn't learn of his indiscretions), assisted by the cabin steward and jack-of-all-trades Dvornichek (Charlie Stemp), attempting to convince the suicidal Adam that what he heard was in fact a rehearsal for a new ending written by Ivor (which of course, was written by Turai). Don't worry all will become clear... or will it???
It soon became apparent that this was not going to be plain sailing for them and that they were all in for a few surprises...
This was indeed an ensemble piece and everyone played their part very well however I do feel that, in some places, the pace was a little hurried (and not in the places it should have been – Dvornichek's monologues, but in main dialogue) which meant we lost some of the humour occasionally. This will probably get better as the tour progresses and certainly not enough to spoil the performance.
Although this was most definitely an ensemble piece, there was one standout for me, and that was Stemp as Dvornichek.... his delivery of the cleverly written monologues was just brilliant. These were presented with style, superb diction and clarity and all tied up with a little bit of humour... Not easy to do, so well done Charlie.
The musical numbers, although unexpected, were quite enjoyable led by piano alone (from what I understand).
The costumes were absolutely spot on for the 1930's period as were shoes, hair and makeup, just what you would expect to see on a lavish cruise liner.
Although, I enjoyed the dance routine performed by Partridge and Stemp at the end and it did show the enormous talent these two gentleman have, I do feel that is was not necessary and that it felt like a bit of an add on..
Lighting and sound both did a good job.
An enjoyable evening in the lovely Lyric Theatre with extremely helpful and courteous staff.
The play runs until Saturday 23rd February at The Lowry, Salford. https://thelowry.com/whats-on/rough-crossing/
Reviewer: Hazel Bumby
Reviewed: 18th February, 2019
North West End Rating: ★★★