Opera North delivered Mozart's classic 'The Magic Flute' at the Lowry Theatre, directed by James Brining whom has put his own interpretation in to this timeless opera; making it modern, captivating and overall magnificent.
The Magic Flute was Mozart's final opera which premiered in Vienna in September 1791 themed on the search for truth and reason, love and enlightenment and finally good versus evil. Mozart unfortunately died a mere two months later however his masterpiece lives on, Centuries later there have been many meanings and interpretations attached to this Opera : Is it about brotherhood? The meaning of true love? The method for achieving an honourable life? Good over evil including many more analytical connections and theories but what we must remember is that in Mozart's time most of the psychological theories were not invented so we cannot categorically identify the deeper message he was trying to deliver.
The plot of The Magic Flute is undeniably complicated with its complexity of human relationships and dramatic premise like 'love' (as in The Marriage of Figaro) and morality and politics (as in Don Giovanni); the story follows the adventures of Prince Tamino (Kang Wang) and the bird-catcher Papageno (Gavan Ring) on their quest to rescue Pamina (Vuvu Mpofu).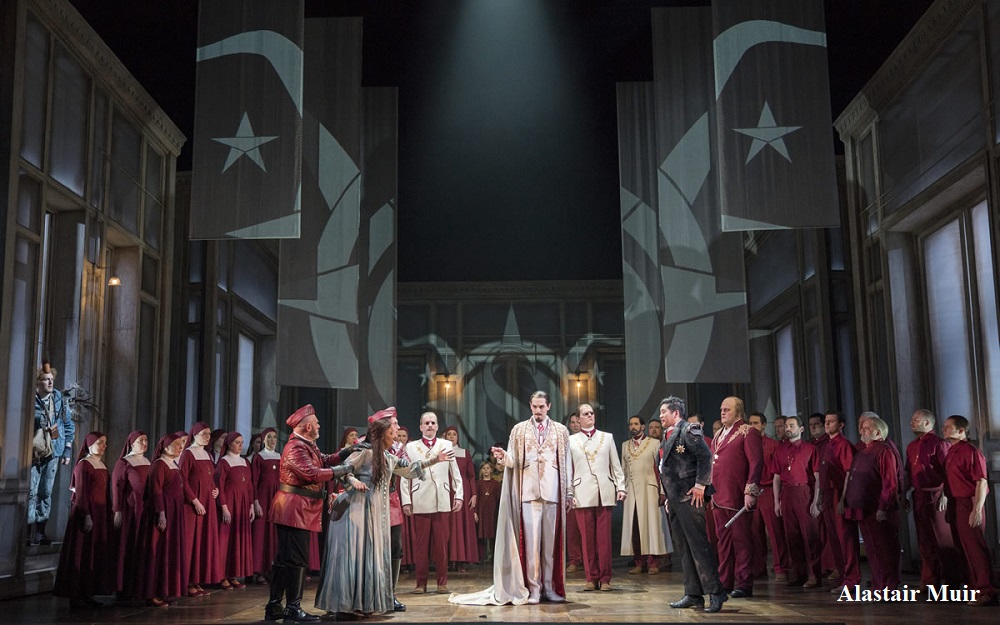 To assist their mission they are given musical instruments enhanced with magical powers which they deploy to conquer the trials and tribulations placed in their path towards a deeper understanding of true love and happiness. The handsome Prince enters a quest to win the hand of Princess Pamina, but to marry her he must undergo a series of initiation rites (symbolic of those found in Freemasonry) along with his side-kick Papageno , however all ends well in the unity of love between the love struck individuals as they celebrate the victory of light over darkness.
This Opera is technically termed a 'singspiel' meaning that it combines singing and spoken dialogue sort of what we would call a musical in today's modern world. While on the surface 'The Magic Flute' and its characters could be considered a little far-fetched and silly Opera North has yet again created a golden nugget by introducing modern technology into a 18th Century Opera with its elegant and versatile Set and Costume Design By Colin Richmond, the use of impressive graphics and video design by Douglas O'Connell created an endlessly fascinating work of art with breath-taking visual excellence.
The Opera's plot isn't the only interesting thing about 'The Magic Flute' the music is also bursting with light-hearted liveliness, imagination and a fantastic mix of exciting arias and grand melodies, accompanied by the skilfully accomplished chorus of Sopranos, Mezzos, Tenors, Basses and the impressive Orchestra of Opera North Conducted by Robert Howarth the evening was filled with the most exquisite and graceful sounds that permeated throughout the auditorium which contributed to a splendid night of pure grandeur and gentility.
Opera North never fails to deliver in their grandiose productions which are consistently ambitious and pioneering that appeal to the bourgeoisie sociologically defined classes of society right through to working class patrons like myself with its phenomenal way of introducing new and innovative concepts and dimensions to iconic Operas.
'The Magic Flute' showcased some of Opera Norths finest performers including some exceptionally talented youngsters who played the roles of the three boys and the children of the priesthood, an outstanding performance by all the leading characters with a special mention to Gavan Ring who provided some light comedy and humour in his portrayal of Papageno.
Also notable was the magnificent set and costumes to distinguish the intensity of the scene and the characters, all credit to the creative team of Opera North.
40 years on Opera North is stronger than ever in its delivery of family friendly opera's and transformation of many historical masterpieces making it a pleasant evening for all who attend these magnificent productions.
Verdict: "modern, captivating and overall magnificent"
Reviewer: Katie Leicester
Reviewed: 5th March 2019
North West End Rating: ★★★★★