What is more dramatic than a thunderstorm?
Storms and tempests are frequently used in drama to signify the internal emotions of its characters. They are great for creating high drama on stage and this production by Opera North was electrifying.
The opera Katya Kabanova is based on a play called The Storm by Alexander Ostrovsky. It was written in 1921 by the Czech composer Leos Janacek at the age of 67. It is believed he was inspired by his unhappy marriage and the fact that he had fallen in love with a woman 38 years his junior called Kamelia.
Central to the story is an affair between Katya and a man called Boris. Her husband Tichon is still dangling from his mother's apron strings and goes away on business because she tells him to go. Kabanicha, the mother-in-law from hell, is the queen of emotional blackmail and her son will not go against her word. Despite Katya's pleading he goes and she is left to fight between her feelings for her lover and her Christian morality.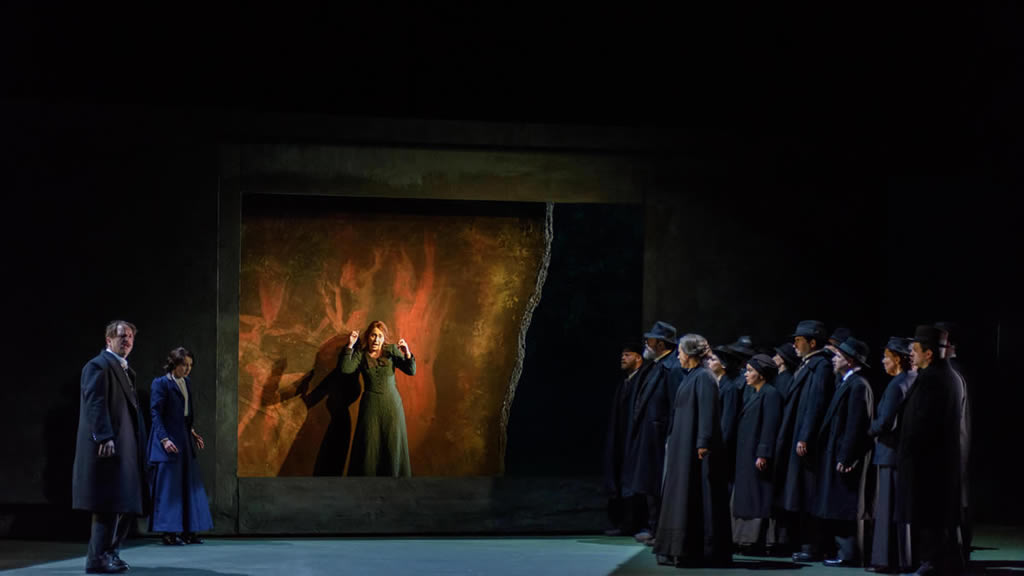 This is what gives this opera its power. On the face of it the plot is quite slight, beautiful heroine has affair with dashing lover and is left to pay the price. It would not be out of place in a Mills and Boon novel. Yet a moral storm is raging inside the heroine and this powers the drama.
Stephanie Corley is magnificent in the lead part. The emotion and intelligence she brings to it is quite breath taking. Her voice is at times soft and then it becomes powerfully intense. It is in this intensity that she is able to portray this character who loves the church but yet she is unable to stop herself having an affair.
Kabanicha, the matriarch, is wonderfully played by Heather Shipp. She has a lovely scene with Boris' Uncle Dikoy who is charismatically played by Stephen Richardson. In it the moral mother is revealed to be not as pure as she makes out.
Another standout performance came from Katie Bray as Varvara, Katya's sister-in-law. She brought a lightness of touch to the part and her voice was beautifully controlled.
The orchestra were excellent, and the score is interesting. There are moments when it is soft and pastoral before turning dark and dramatic. Creating in music the calm before the storm that then rages through causing havoc in its wake.
The set mirrored this conflict with natural green being contrasted with more dark and dramatic colours. This theme ran through the costumes with Katya in green and other characters in black.
My only criticism is that the scene changes interrupted the flow. The music would stop and then start again during the delay. Considering the opera was performed without an interval, presumably to maintain the intensity, it is a shame that these changes were slightly too long.
If you'll excuse the pun, a storming production that is well worth seeing.
Reviewer: Adam Williams
Reviewed: 7th March 2019
North West End Rating: ★★★★