From the great minds of the researchers for the hit TV comedy panel show 'QI', hosted by comedian Sandi Toksvig, the popular podcast No Such Thing As A Fish was created as a way to make sure no weird and wonderful facts were going to waste if they couldn't be included in the main show.
QI Elves Andrew Hunter Murray, James Harkin, Anna Ptaszynski and Dan Schreiber present the weekly podcast, and are now on a UK and European tour to spread their facts further and reach even more people. This sentiment is the inspiration behind the first half of the show, where they all present their pitches to take Fish to the next level, with the others quipping in with witty remarks throughout.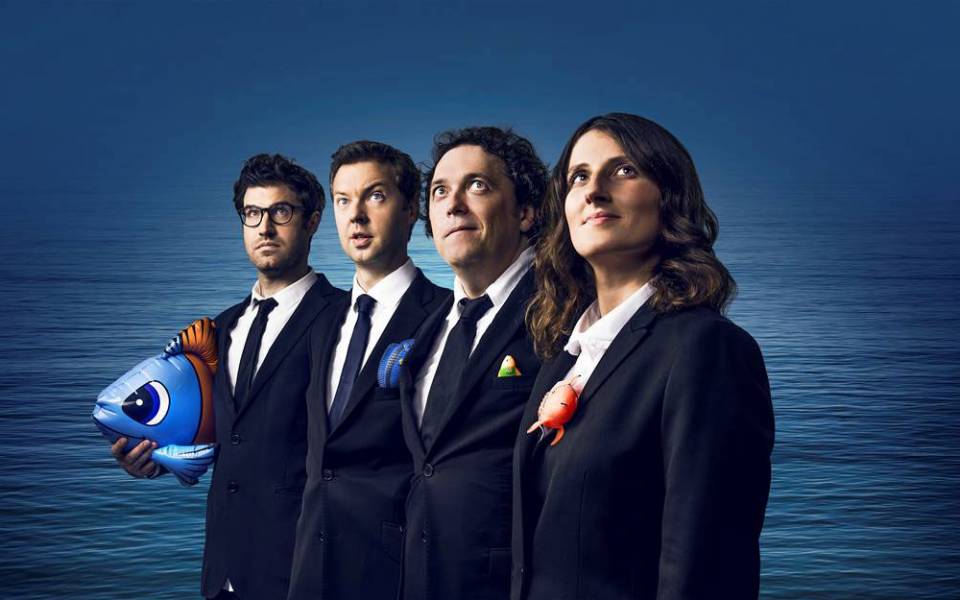 The evening had an easy-going, laid-back atmosphere that created a warm reception for both avid fans and complete "newbies". It should be noted that you don't need to be a regular listener of the podcast to enjoy the show, there were no exclusive in jokes as any referred to were always explained. For instance, Schreiber poked fun at himself for being an unreliable source and explained to the audience that he's famous for getting facts wrong on the show.
The chemistry of the four presenters was impeccable, their sarcastic quips to one another and spontaneous banter made the show. When performing individually, Murray, Harkin, Ptaszynski and Schreiber provided hilarious presentations in an almost stand-up comedy fashion. Their displays were supported by the use of a big screen where they could display images that made their pitches even more comical. The bookcase backdrop of the set gave an intelligent feel, and the use of an upbeat soundtrack before/after the show created a cheerful atmosphere.
As Schreiber describes it: Act one is full of "dorky facts" and in Act two they record a live podcast. Murray, Harkin, Ptaszynski and Schreiber made the audience feel welcome and part of the podcast, encouraging them to "ramp up" their weird laughs to be able to listen out for them on the release of the episode. They also ran a competition where members of the audience had to send in their best facts and a winner was picked at the end.
Within the podcast, each presenter takes it in turns to present their favourite fact for that week, and the team discuss and add extra facts and information surrounding and connecting to it. Whether listening live on the tour or as a podcast when the episodes are released, Fish offers an extremely fun way to learn new facts and experience a refreshing comedy style.
A thoroughly entertaining evening.
Reviewer: Becky Mottershead
Reviewed: 17th March 2019
North West End Rating: ★★★★