If like me you are old enough to remember the 90s TV Series of The Worst Witch, you will at least be curious of the new stage adaption of the Jill Murphy books. For anyone who doesn't know the story focuses on Mildred Hubble as she attends Miss Cackle's Academy for Witches, where we soon learn why she is called the Worst Witch.
The plot is loosely based on the first book in the series, however it takes the form of a play within in a play. It becomes a bit pantomime in nature and is clearly aimed at the scores of children who are in the audience.
Early on we meet Mildred's classmates and each of them has brought a black cat with them. Mildred unaware of the requirements is given a tabby cat by Miss Cackle, who she names Tabby. You may be thinking how did they get the cats on stage. In fact the cast use gloves as puppets to play the cats. They are very effective and convincing - the kids in the audience seemed to love the cats more than any of the characters.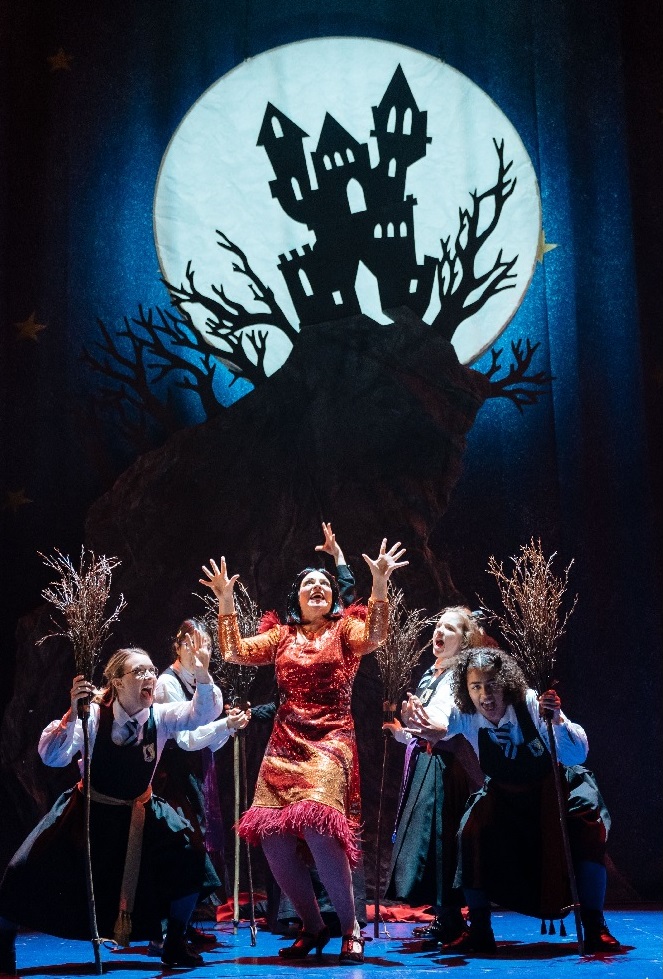 With magic being one of the central themes to the piece, it wouldn't be complete without a few 'how did they do that' moments. At one point the whole set seems to fall apart, however towards the end it magically fixes itself. Also, one of the characters disappears in a suitcase, which had me scratching my head during the show.
Overall I thought the play was well cast however I wasn't entirely sold on some of the choices Danielle Bird made in playing the character of Mildred. From my recollection Mildred was a shy girl who inadvertently made mistakes and got her into trouble. Bird adopts this goofy persona which I feel didn't really suit the character.
For me the absolute star of the show was Polly Lister in her dual role of Miss Cackle and her evil twin Agatha. In Act One she plays a rather subdued Miss Cackle, and then in Act Two she is bordering on the lines of insanity when she becomes the character of Agatha.
Rosie Abraham also puts in a good performance as the snooty, miss know it all Ethel. I think everyone went to school with an Ethel and Abraham stays in character throughout. She delivered all her lines with the sass needed for the character to be convincing.
The Worst Witch is a great day out with the kids. It's a very lively show with lots of belly laughs. There are a few gags in there for the adults as well. The show is performing at the Lowry until 31st March.
Reviewer: Brian Madden
Reviewed: 26th March 2019
North West End Rating: ★★★★