Paula Hawkins' hugely successful 2015 novel 'The Girl On The Train' adapted by Rachel Wagstaff and Duncan Abel to translate on to stage was hosted at the stunning Lowry's Lyric Theatre.
The auditorium was completely packed without a single seat spare on the opening night for this well-known psychological thriller that took the world by storm four years ago.
Based on a daily train commute for this tense thriller you are faced with a projected image of a speeding train through suburban town long before curtain up setting the scene and tone for this play from the outset.
When I was asked to review 'The Girl on the Train' my first thoughts were how on earth are they going to do the train scenes? However I have to say that the highlight of the evening was definitely from the creative team, the set and costume design by James Cotterill, lighting design by Jack Knowles was sublime creating the most atmospheric scenes possible. Composition and sound design by Ben and Max Ringham including projection design by Andrzej Goulding all provided the perfect visual and auditory setting for this tense thriller.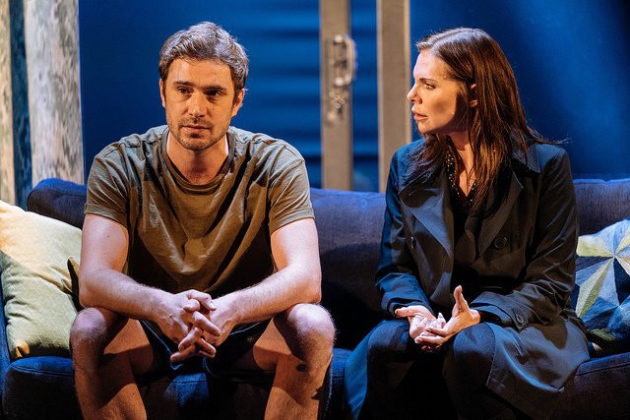 The story is based around Rachel Watson a downtrodden barren female who has lost her husband to another woman who is seemingly moving on with his new wife and baby in their old marital home, whilst she resides in a dingy little flat laced with empty bottles of wine and spirits following her heavy drinking and erratic lifestyle.
Rachel is played by Samantha Womack who is best known for her role in EastEnders as Ronnie Mitchell and recently in Silent Witness as DI Kate Ashton, Womack gave a sterling performance as the confused, angry, drunken, jealous and inquisitive character of Rachel.
Rachel's character has an idealised vision of perfection which she sees from the window of the train each day that sparks a thrilling sequence of events, where she believes everyone's life is more glamorous, more interesting and more desirable than her own.
Without giving the plot away the story goes through many twists and turns throughout the play making this production one of the most captivating and exciting plays I have seen for a long time.
Tom Watson the ex-husband is played by Adam Jackson-Smith and new wife Anna Watson by Lowenna Melrose who both gave a thoroughly convincing and captivating slant on their characters.
Fantastic direction by Anthony Banks and excellent casting from Ginny Schiller making this a wholesome and exciting all round thriller. Moments of magic came from John Dougall who played DI Gaskill with his fabulous timings and well needed light-hearted comedy amongst this dark drama.
The couple that was Rachel's focus of fantasy perfection were Scott Hipwell (Oliver Farnworth) and Megan Hipwell (Kirsty Oswald) whom both displayed acting in its finest form with their phenomenal portrayal of this mysterious partnership.
'The Girl On The Train' isn't a long play but it completely captivated me with that style of storytelling leaving me wanting to watch it all over again as this is definitely a superb and unique piece of theatre work.
I would highly recommend watching this play if you can as it is a fantastic combination of modern theatre with its stunning use of lighting, set design, sound and projection with an extremely talent strong cast.
'The Girl on the Train' remains at the Lowry Theatre until Saturday 6th April so grab your tickets whilst you can as this is a must see show and you will not be disappointed.
Reviewer: Kelly Grace
Reviewed: 1st April 2019
North West End Rating: ★★★★