It is a rare experience these days to see a production outside London of The Phantom of the Opera, so I was thrilled to see it on Pendleton College's season of shows this year. Regarded as one of the best performing arts colleges in the area this group of talented cast and crew have provided a high quality professional production.
From the opening auction scene until the powerful finale this production has you gripped and on the edge of your seat. Caroline Featherstone leads this exceptional cast as Christine Daaé and totally steals the show. I have been fortunate to see this young lady grow in confidence and ability over the last few years, and tonight she came of age. Performing the role as well as I have ever seen it done before, she reached notes in the score the professionals rely on technology to assist with. Simply stunning.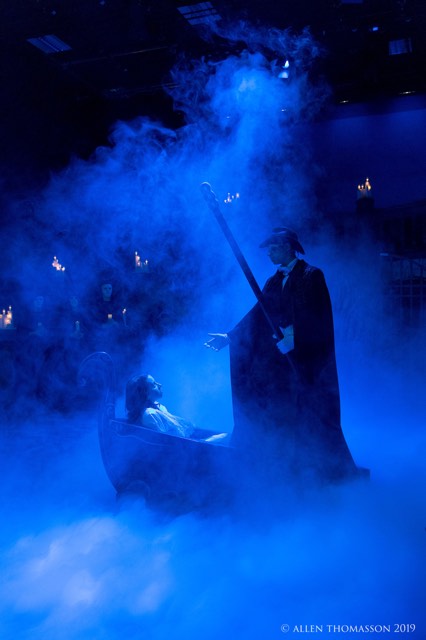 Marley Fenton takes on the title role and his characterisation of the Phantom is well judged. I maybe would have liked to see a little more angst in some scenes, however his voice was superb throughout. Luke Robinson as ever provided an assured performance as the love interest to Christine, Raoul whilst Joe Campbell and Teddy Jones provided a little light humour as the new owners of the Paris Opera House, Monsieur André and Firmin respectively.
Alex Brighouse and Owen Murphy as opera stars Carlotta and Piangi both excel with Brighouse's voice impressing. Anne Welsh as Meg, best friend to Christine gives a confident performance with her facial expressions as she watches the journey of her friend shining.
For me tonight the most assured performance other than Featherstone as Christine was Cerys Burton as Madame Giry. Burton understood this role perfectly, her stature and movement around the stage was both measured and menacing, perfect.
A large ensemble played an integral part in this production, not only supporting the main cast but effecting slick set changes which helped the production to flow at a constant pace.
Neil Bennett led a 12 strong orchestra which sounded phenomenal recreating Andrew Lloyd Webber's now iconic score. Choreography from Louise Pettitt was both original and visually pleasing with the highlight being the stunning Masquerade which opened act 2.
Pendleton have a wealth of incredible talent within their ranks at present who showed superb professionalism tonight dealing with a number of technical issues most would not have noticed. Director Joseph Meighan can sit proud tonight in the knowledge that one again he and the whole team at Pendleton have cemented their position of one of the best colleges in the area.
The show continues until Saturday, empty seats were seen tonight which is quite honestly criminal. Please catch this show before it closes and watch the future of musical theatre in this country shine.
Reviewer: Paul Downham
Reviewed: 30th April 2019
North West End Rating: ★★★★★