In the 400 years since its first performance, Shakespeare's tragedy has been produced in an enormous variety of ways and used as source material for opera, musical theatre and even an animation (who can forget Gnomeo & Juliet?). So, when Matthew Bourne and his New Adventures Company set their sights on presenting Prokofiev's 1940 ballet based on the piece, expectations were sky high. This radical reinterpretation delivers an accessible, stylistic and visually stunning take on the story of the star crossed lovers.
In this version, Romeo (Paris Fitzpatrick) is committed by his politician parents (reason unspecified) to the austere 'Verona Institute', a psychiatric hospital, and forced into a life of institutional drudgery. Presiding over his hellish new existence is Tybalt (Dan Wright), a guard who takes sadistic delight in punishing and abusing the inmates, sexually, physically and mentally. Romeo falls in love with fellow patient Juliet (Cordelia Braithwaite) and the story winds through to its familiar fateful end.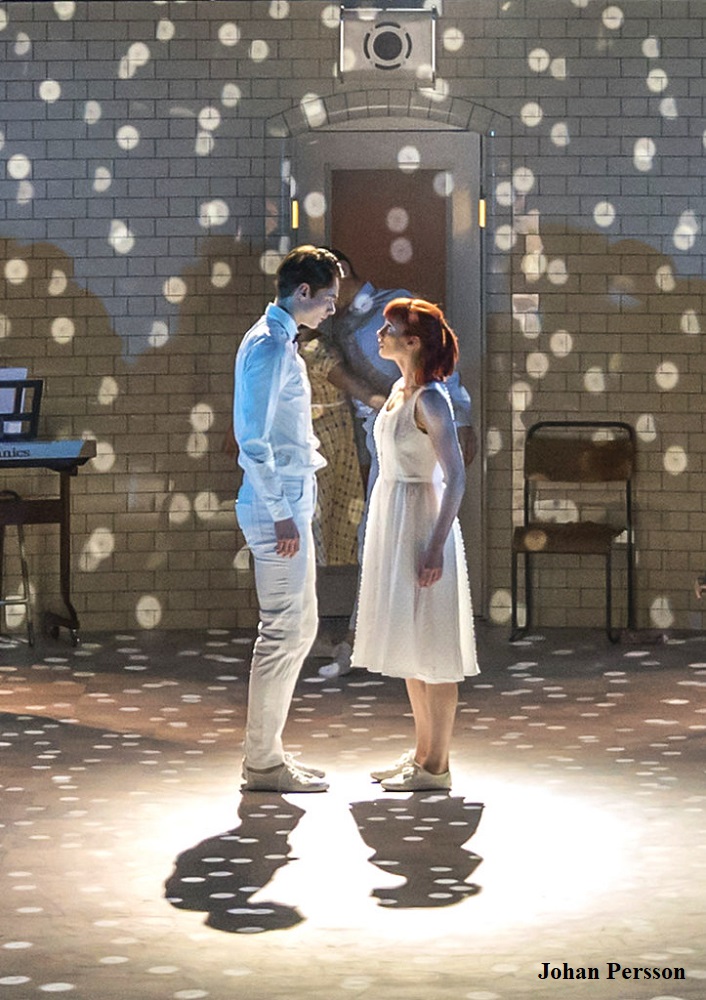 It is inevitable that when translating Shakespeare into an artistic form that is reliant solely on movement and music to convey the story, that some of the nuance and complexity will have to be discarded. In this piece, there are no missing missives or accidental poisonings to complicate matters, we move through a much simpler love story with a tragic conclusion. Within the strictures imposed by a ballet this is a brilliant decision, and allows the audience to concentrate solely on the dance and music without the additional burden of a difficult and complex plot to follow. The strength of all Bourne productions is the innovation he brings to the direction and choreography, breathing new life into familiar scenes. Romeo seems to be floating on air after the balcony scene with Juliet, effortlessly demonstrating the way true love makes us feel, and the 'Holy Palmers' Kiss' is beautifully rendered without a syllable being uttered. Even amongst the tragedy, Bourne managed trademark humour, a sly nod to 'Summer Nights' from 'Grease' was my particular favourite.
Both Fitzpatrick and Braithwaite utilised their extraordinary physicality in a tender way, most apparent during the love making scene which was both erotic and sensual, whilst maintaining a graceful beauty. This is juxtaposed against the dark and brooding Wright as Tybalt, dressed in black, tattooed and oozing menace from every pore. When the inmates take revenge, his death is vicious and reminiscent of the Swan in Bourne's 'Swan Lake' in its hissing brutality. Mercutio (Reece Causton) and Balthasar (Jackson Fisch) give energy and pathos to their parts, although more characterisation and definition of their role in this version would have been welcome. The company were stunning when executing the complex choreography and are aided by six young local dancers from the area who are given the chance to perform on each night of the tour.
Set and Costume Designer Lez Brotherston is the long time collaborator of Matthew Bourne, and he has once again produced a sublime backdrop. It is a one set stage with balcony, covered in white tile, perfectly complimenting the harsh white lighting of Paule Constable and providing the clinical coldness that the setting required. Scene changes were incorporated seamlessly with cast swapping places under and over beds making for one particular visually arresting moment. Costumes were restricted to simple white, making the rare splashes of bloody colour against the monochrome all the more vivid.
Both the Orchestrator Terry Davies and Musical Director Brett Morris have combined to ensure that Prokofiev's score lived up to the innovative activity on stage. The familiar and powerful 'Dance of the Knights' was well used and the musicality matched the scenes to such an extent that it replaced the necessity for any dialogue.
Both Shakespeare and Ballet suffer from an image problem in modern society, being seen as both elitist and esoteric. If you suffer under this misapprehension, see this show and it will change your perception of both forever. Matthew Bourne and New Adventures have added another classical and accessible piece of theatre to their impressive repertoire, long may they continue.
Verdict: This radical reinterpretation delivers an accessible, stylistic and visually stunning take on the story of the star crossed lovers.
Reviewer: Paul Wilcox
Reviewed: 12th June 2019
North West End Rating: ★★★★