Ockham's Razor are a theatre company who combine aerial work, circus and visual theatre. This Time is their new tour which takes an autobiographical look at how different generations interact and react. Here co-founders Alex Harvey and Charlotte Mooney work with the both the juvenile (Faith Fahy) and mature (Lee Carter) to create an evocative and emotional performance.
The main performance and aerial pieces are set to music by Musical Director Max Reinhardt and composer Chioma Una. A lot of the music is ethereal and hauntingly beautiful with the occasional more up-tempo piece, but it works excellently alongside Phil Supple's lighting designs to create the atmosphere needed. Interspersed along the performances are brief monologues by all the adults, looking at childhood events, adult events and the stresses of parenting. All are very relatable and often emotional as you learn more about them as individuals and empathise with them.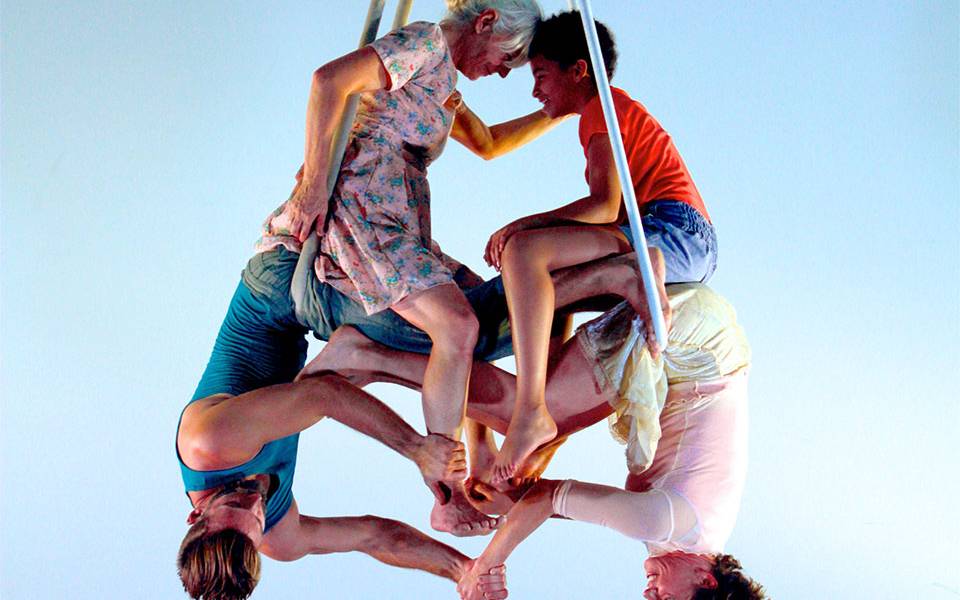 The first piece features all four artists sharing a trapeze and rope. The skill and strength of all is immediately obvious but what hits you is the beauty and drama created in the aerial work. They are a team and the trust and respect between them is tangible. Some of the pieces use all four performers, some a combination of two or three and all are given their own time in centre stage.
The youngest member of the team Faith Fahy shows a skill, commitment and physical ability that belies her youth. Combined with a natural grace and beauty she is clearly a future star of physical theatre. The most mature member Lee Carter only started training in physical theatre at the age of fifty. Ten years on and she is an outstanding example of how age should not be a limitation on doing what you want to do. Real life couple Alex Harvey and Charlotte Mooney are at the core of the show, both are amazing aerialists and their strength enhances the stunning visuals and the positions and lines created in the air are expressive while creating a very gentle overall feel.
Ockham's Razor are always a highly talented company. This production is a fabulous showpiece for their talents as well as a sensitive look at some highly personal events. Definitely a show to see. Until Saturday https://thelowry.com/whats-on/ockhams-razor-this-time/
Reviewer: Helen Jones
Reviewed: 13th June 2019
North West End Rating: ★★★★