Crowded Room have produced a piece of Theatre which is part play, part documentary. A true story about five people whose lives are turned upside down by crime. Three victims and two perpetrators told their true stories to Harriet Madeley during interviews. The crimes were all serious including murder, manslaughter and violent assault.
The 'writer' Harriet Madeley thought of the idea whilst reading an article on 'Restorative Justice' and the high re-offending rate of 70% following the first year being released from prison. Two years ago, the Government committed £29 million to the 'Restorative Justice Project' to encourage victims and perpetrators to meet face to face to enable discussion to take place to try to reduce this high re-offending rate. In 2015 a MORI Poll was conducted which showed that only 22% of the population has even heard of this project.
The play itself is performed by five actors (Archie Backhouse, Bruce Kitchener, Mark Knightley, Harriet Madeley and Cathy Tyson), who begin the evening not knowing which role they are going to play. Each actor has a headset and the dialogue from the interviews is streamed through these and they simply repeat what the interviewee says word for word.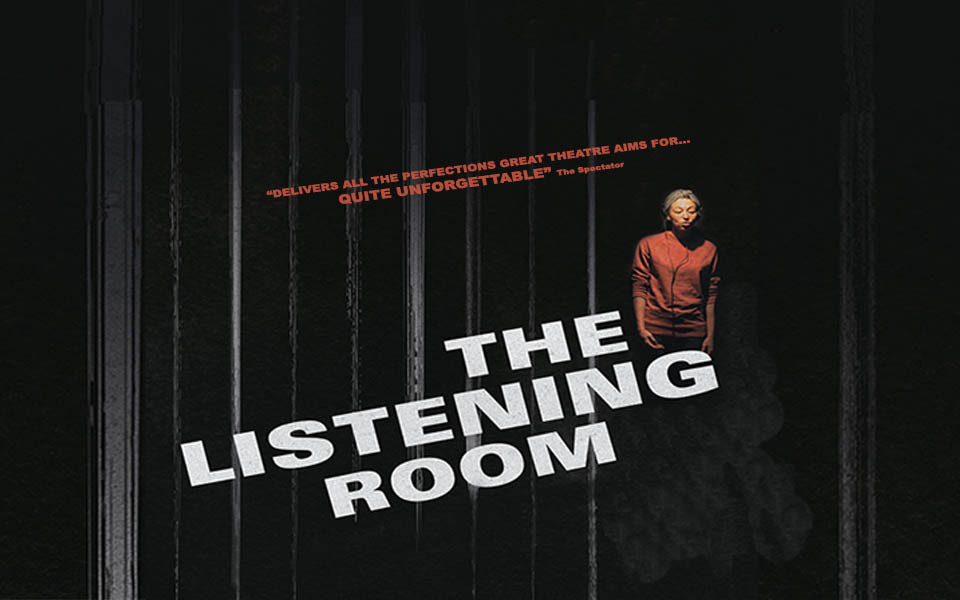 This is a challenge as the actors do not simply speak their parts they are performed with conviction and emotion.
The staging and costumes are kept simple to keep your attention on the emotive nature of the performance. Anything too dramatic would detract from the narrative. Moving quickly between victims and perpetrators we hear about the nature of the crimes and the impact on not only the victims, but to the perpetrators themselves. Each scene is punctuated using blackboards to the rear of the stage. By use of white paint, the actors relate the emotional state of their characters and this is gradually built upon at the end of each scene.
It would be difficult not to be drawn into this poignant piece as this is not fiction -these are real people who have re-told their moving, sometimes disturbing stories. They made the choice to go down the route of restorative justice which apparently very few perpetrators do. The victims/victims' families appear to be the main beneficiaries with figures showing that 80% of victims felt that they were able to forgive once they heard the perpetrators feelings of regret and found it easier to move on.
As a piece of Theatre its drama comes from the very real experiences of the characters. The addition of a small amount of theatricality moves it away from being too close to a documentary whilst still retaining its informative account.
As a tool for education both Schools and the Prison Service have used the play. It asks the questions –How understanding are we of people who may have taken the wrong path at some point in their lives? How easy would we find it to forgive?
Crowded Room are performing The Listening Room at The Lowry until 15th June 2019 so book quickly to catch this important piece of Theatre. To book click on the link - https://thelowry.com/whats-on/the-listening-room/
Reviewer: Caroline Worswick
Reviewed: 13th June 2019
North West End Rating: ★★★★