The Hope Theatre Company who specialize in verbatim theatre and working with emerging LGBT+ artists; began their journey with this play following the death of Martyn Hett at Manchester Arena Bombing in 2017. Not long after his death a re-tweeted message became a slogan #bemoremartyn on twitter and being a Manchester based theatre company, Hope Street Theatre Company wanted to ask; what does that mean? This play is their answer to that question through the voices of Martyn's own friends, portrayed by eight actors.
The play opens with a taster of things Martyn loved. The play moves through Martyn's life with memories from his friends from when he was young until his death.
Martyn lived above the Hat Museum in Stockport. He was gregarious using his in-flat bar 'The Frigg' to host many parties for his friends and neighbours. His flat was an extension of his personality with his DIVA bathroom and his cat Emily Bishop! He had his own unique dress sense which complimented his sparkling personality.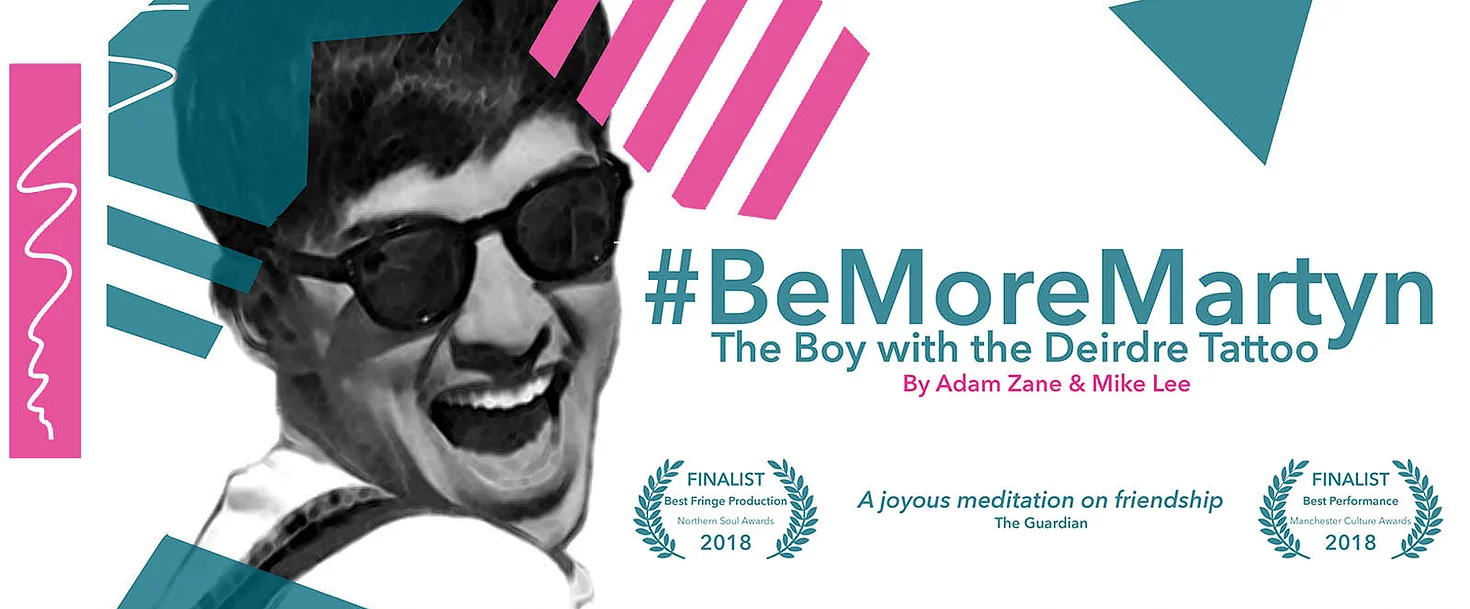 His friends described how they met Martyn; some were lifelong friends, but all loved him dearly. Included in these friends were his ex-partner Mikey and his partner Russell. All of them described Martyn as being able to make friends with anyone, having a constant stream of people around him as he attracted people's attention. His non-stop partying and his love of The Eurovision Song Contest created an annual event which was not to be ignored in his friends' calendars.
As a piece of Theatre (which is how I must review this), it makes for an energetic display to help us to understand Martyn's personality. The whole feel of the play is a communication of the ability of one man to exude such love and positivity and pass this on to other people. He did not like to say no to enjoyment and his family and friends meant everything to him.
We only saw a small snapshot of Martyn's life, but through the strength of his friends at a very difficult time, we were able to feel a sense of the person he was. The audience shared laughter and the inevitable tears as we heard about Martyn's last days and ultimately his funeral.
Understandably, an emotional experience for whoever attends, the joy he brought to people radiates through. The staging of the play is that of 'The Frigg', Martyn's in-flat bar and the obvious dedication of the actors, director and creatives to make this work is evident. I did sometimes feel that as a piece of Theatre it did lack some imagination and could have been a little more innovative.
It is clear, however, that anyone going to see this play will feel touched by the sheer amount of love Martyn gave to people. They may even want to #bemoremartyn.
To book tickets go to https://thelowry.com/whats-on/be-more-martyn/ The play runs until 22nd June 2019.
Reviewer: Caroline Worswick
Reviewed: 20th June 2019
North West End Rating: ★★★