The Pendleton School of Theatre has an outstanding reputation in the Manchester area, and is responsible for progressing many students to the best drama and dance schools in the country. The 'Class of 2019' is outstandingly auspicious in this regard, so the opportunity to see them perform 'Into the Woods' as a conclusion to their Season of Shows, was a chance not to be missed.
The story by James Lapine manages to meld some of our favourite fairy-tale characters (Cinderella, Red Riding Hood, Rapunzel, Jack and his Beanstalk) into a single narrative, aiding a humble Baker (Luke Robinson) and his wife (Anna Whittle) in their quest to break a Witch's curse and have a child. Sprinkle in the genius of lyrics and music by the incomparable Stephen Sondheim, and it is easy to see why this show is regarded as a modern classic.
Director Joseph Meighan made the bold decision to stage this production utilising a traverse stage with only three rows of seating on either side and a raised platform at each end, a judgement that was fully vindicated as the packed opening night audience were given the opportunity to observe the hugely talented cast at close quarters.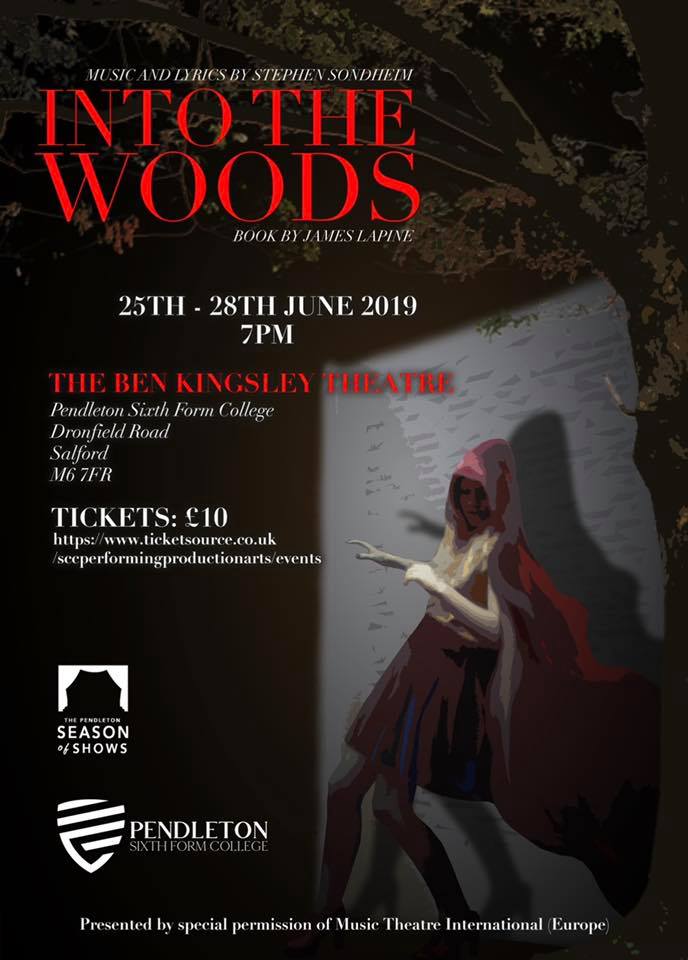 From the opening bar, the disparate strands of the story were played out on separate areas of the stage giving space and clarity, as we were gradually introduced to the cast during a breathtaking 15 minute opening sequence. Musical Director Neil G Bennett was the sole accompaniment for the entire performance, resplendent in a tuxedo and perched onstage in front of a white piano throughout, his faultless playing of the complex score required no further support and underpinned the production to stunning effect.
The intimate nature of the arena demonstrated the depth of talent within the production, each and every one of the cast giving individuality and a recognisable persona to their characterisation. It was entirely appropriate that most of these were predominantly northern in flavour; so Jack's mother (Caitlyn Brady) was a Scouser wearing tracksuit and Ugg boots, whilst The Mysterious Man (Dom Gannon) channelled Frank Gallagher from 'Shameless'! All over the stage memorable vignettes were enacted; Cinderella's chav sisters, a cow on a bike and a couple of preening Princes stick in the memory, whilst the choreography was flawlessly executed with energy and style. It is unusual in any production, amateur or professional, to see such a quality performance across an entire company and without exception they are to be highly commended.
One of the advantages for Meighan in tackling 'Into the Woods', is that it has a large number of leading roles to cast amongst his gifted student body. Each of them were superb with individual highlights scattered throughout the evening. Whittle showing excellent comedic rapport with Robinson during their duet (It Takes Two), before quickly changing gear to be convincingly coquettish later (Moment in the Woods). Robinson persuasively takes his character from bumbling incompetence to a heartbreaking conclusion (No One is Alone). Annie Welsh portrayed Little Red Riding Hood as both sweet and slightly scary in equal measure (I Know Things Now), whilst Jack (Tommy Seymour) made the audiences spirits soar during 'Giants in the Sky'. Cerys Burton as The Witch was a huge stage presence throughout, her rendition of 'Last Midnight' was both memorable and powerful.
However, my highlight of the evening was a stellar performance from Caroline Featherstone as Cinderella, she beautifully balanced the required verbal dexterity necessary to conquer Sondheim's dense lyricism (On the Steps of the Palace), with a natural acting style which gave the character real pathos
It has been my pleasure to watch many of these performers develop and hone their craft over recent years, the production this evening was a fitting testament to the talent and hard work that will undoubtedly take many of them to success in the professional sphere in the future.
Verdict: An outstanding production of a modern musical classic performed by the stars of tomorrow.
Reviewer: Paul Wilcox
Reviewed: 25th June 2019
North West End Rating: ★★★★★