In live entertainment; you often hear the phrase; 'the hardest working men in show business' acclaimed in reviews for different productions here and there. That statement has never been more accurate than it is for the latest La Navet Bete production; The Three Musketeers which is currently at the Lowry Theatre in Salford Quays as part of its UK Tour.
The cast of just four take on a whopping 40 character roles, with 50 outfits and 112 costume changes in order to bring a modern day, comedic twist to the well known story, the result...something you've got to witness for yourself.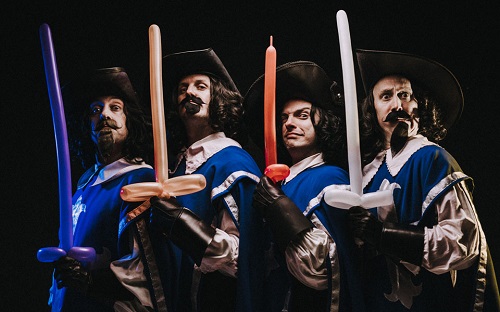 It's fun, silly and cheesy in equal measure. Dan Bianchi, Nick Bunt, Al Dunn and Matt Freeman are brimming with energy and charisma from the moment they step on stage, so much so that it makes you want to get up on stage and be part of the show, it's engaging throughout and even involves the audience with participating in the caper.
The script does occasionally lean towards panto-esque humour but that's kind of why this production works; it doesn't take itself seriously and you just can't help but have a good time, writer; John Nicholson has created a show which the whole family can enjoy that's for sure.
When it comes to storytelling, I'd say it's as far removed from the original book as you can get while still getting away with calling the show 'The Three Musketeers'. There's a modern day twist throughout and I have to say I never quite expected to see BMX bikes in a 17th century plot, but the whole thing is absolutely glorious!
The cast (and stage manager) deliver a hilarious evening of entertainment which is definitely something you won't have witnessed before.
Verdict: Amusing, Silly & Fun...All in equal measure!
Reviewer: Max Eden
Reviewed: 12th July 2019
North West End Rating: ★★★★