For the first time ever the Royal Shakespeare Company are performing three plays at The Lowry Theatre between 25th September and 5th October. The Taming of the Shrew and Measure by Measure will take place later, however I was in attendance on the opening night of As You Like It. Looking at the programme most of the actors will be playing roles in at least two of the productions.
Renowned for its famous line 'all the world's a stage', this production by Kimberley Sykes is certainly filled with colour and humour. The set is nothing short of spectacular. Upon entering the theatre the stage lights are illuminating a swing in the middle of the stage. Once the play begins and lights come up, you can see there are two levels to the performance. Wood seems to be the material of choice for the set. There is also a surprise puppet towards the end of the play that will leave audiences stunned.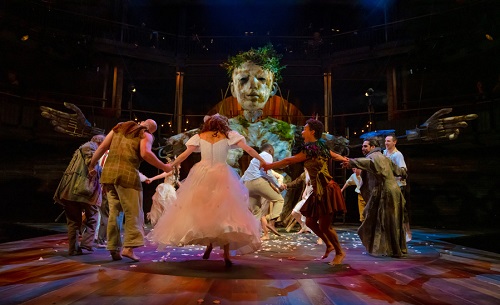 Lucy Phelps excels in the lead of Rosalind. She has great physical ability which is needed to explore the gender-swapping elements of the character. However, her comic timing was also on-point. Shakespeare's language isn't the easiest to digest, so by adding humour where it's needed really helps get it across.
However, it is Sandy Grierson in the role of Touchstone who is the star of the show for me. At times it almost felt like he was delivering a stand-up comedy routine. His Scottish tones and camp dress sense really add to the comic value of his character. The three-way exchange between Touchstone, William and Audrey using sign language was one of the many highlights of the play.
It would be unfair not to mention the fantastic singing in the play courtesy of Emily Johnstone. She had a lovely voice and was always in-tune with the live band who were perched on either side of the balcony.
There is some gender-swapping in this play as Sylvius now becomes Sylvia, who is on a mission to woo Phoebe. This only features in the production as a sub sub-plot, in fact Phoebe does not appear on-stage until the second act.
As You Like It is a very easy watch and even included some audience participation - which is unusual for a Shakespeare play. It's very lively which definitely keeps you engaged and there's a lot of humour.
Reviewer: Brian Madden
Reviewed: 25th September 2019
North West End UK Rating: ★★★★