One of the reasons that the work of William Shakespeare is enduringly popular over 400 years after his death is that he asks questions and poses dilemmas that transcend his own time, relevant in whatever age they are performed. Artistic Director of the RSC Greg Doran, has taken 'Measure for Measure', one of the least well known of the canon, and delivered a blistering examination of the corrupting effect of power and sexual harassment which resonates strongly in a #metoo world.
Doran has kept the original setting of Vienna, transporting us to the city at the end of the 19th Century, when it was a byword for bawdy and depraved behaviour. On the orders of the Duke (Anthony Byrne), Angelo (Sandy Grierson) is sent to clean up the city and begins by sentencing Claudio (James Cooney) to death for lechery, a sentence which is regarded universally as harsh. Isabella (Lucy Phelps) is a novice nun and sister of Claudio who is sent to plead for his life, Angelo agrees to spare him on the condition she has sex with him and we witness the fallout from this act of exploitation throughout the course of the play.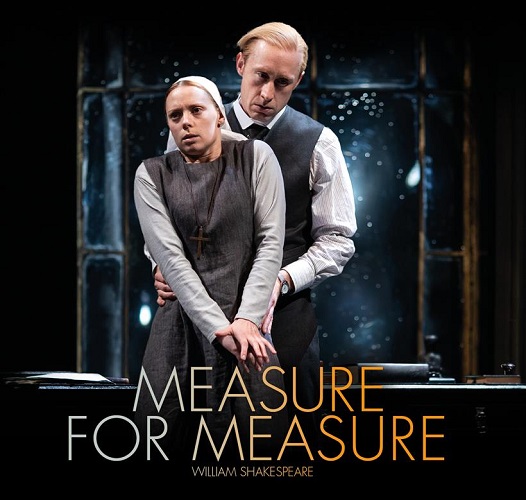 Grierson mines both misogyny and cruelty from the character of Angelo, employing a soft Scottish lilt that sounds eminently reasonable in his role as a judge and yet sibilantly menacing in the seduction scenes. The whispered 'Who will believe you, Isabella?' sent a shiver through the hushed theatre, his removal of the cilice belt from around his leg as he plans his corruption, telling you everything you need about his sadomasochistic character in one action.
He is wholly matched by Phelps, who brings an entirely fresh strength to Isabella. We see not only the anguish she endured when forced to make her choice, but the nascent feminism of a woman who rails against the idea of having to be merely an appendage to a man. This is demonstrated clearly in the final scene when a traditional end is subverted by her horrified reaction to her proposed marriage to The Duke, rather than the delight she is expected to show. A fantastically innovative and apt end for this production.
Byrne rounds out the third leading role with conviction, whether as the imperious Duke or his alter ego, the Friar. His clarity of expression made every line understandable and reminded me hugely of Simon Russell Beale in the sly humour of the delivery.
Incredibly, given the above interpretation, 'Measure' is listed as a comedy in First Folio, and more traditional support in this area is provided in the sub plot. Both Lucio (Joseph Arkley) and Pompey (David Ajao) give excellent character support as a fop and pimp respectively, but it is Micheal Patrick as Elbow, the Constable that should be arrested for scene stealing. His malapropisms were hilariously delivered (detest/protest) and as someone who heartily hates Dogberry in 'Much Ado', he had even me laughing out loud.
The stage is mostly bare throughout and it through the lighting that atmosphere is beautifully realised. Designers Stephen Brimson Lewis and Simon Spencer evoke the mood of each scene with subtle expertise. Whether it is the harsh single spotlight on a black stage during the seduction; the Monet like recreation of a country villa or a busy Viennese train station, all were created using lit backdrops to stunning effect.
'Measure for Measure' is known as a problem play by Shakespearean academics, a lesser known text that illustrates a controversial modern issue. No problems here as the RSC under Doran is firing on all cylinders with this production. It demonstrates clear storytelling delivered by an ensemble all at the top of their game, expounding a story with relevance to a modern audience.
Perfect Shakespeare for the 21st century in both message and delivery.
Reviewer: Paul Wilcox
Reviewed: 1st October 2019
North West End UK Rating: ★★★★★