"Harrowing but a powerful masterpiece of theatre"
'The Lovely Bones' adapted by Bryony Lavery for a stage play hit the ground running on its opening night at Salford's Lowry Theatre on a cold and wet Tuesday evening which continues to run until Saturday 19th October.
The origin of 'The Lovely Bones' started as a novel by Alice Sebold's in 2002 and was heralded as a literary sensation with its unique coming-of-age tale that captured the hearts of readers throughout the world then advancing into a supernatural thriller film directed by Peter Jackson in 2009.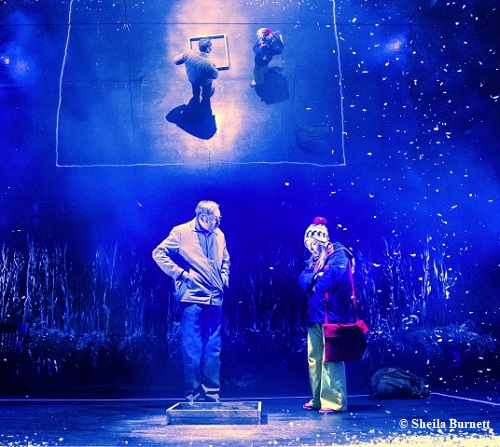 The play is based on events of a 14 year old girl 'Susie Salmon' played by the phenomenal Charlotte Beaumont who is just entering her prime but has her rite of passage denied by being hideously raped and murdered in the opening scene of the 100 minute performance in a truly shocking encounter with her neighbour 'Harvey' played by Nicholas Khan who dismembers her and dumps the body where no-one will ever find it.
As a theatre critic who is completely in her comfort zone taking in a musical full of glitz and glamour I have had plenty of goose-bumps over the years due to leading roles belting out their big money notes in ballads and their show stopping scenes and performances, but I can't recall the last time I got chills and goose-bumps of the scared variety whilst I've sat and watched a piece of theatre that truly sent a genuine shiver down my spine and had me gasping in horror and suspense.
Now this may sound about as bleak an evening at theatre as the weather is in October to some but I assure you it's not - yes it is shocking, horrifying and heart-wrenching but there is a whole array of emotions that you will experience during the performance beside the sadness and rage as there are plenty of laughs and things that make you smile (yes I said it 'laughs'!) amongst this utterly powerful masterpiece of theatre. Leigh Lothian plays 'Ruth' a poetic, semi-depressed loner who sees the dark side of earthly life but provides the most sensational character that delivers the well needed humour and laughter with her light-hearted entertainment.
It is extremely infrequent that a sensational script is matched by remarkable and outstanding staging, lighting and design but the creative team certainly attained this with their dramatic use of huge tilted mirror that allowed different locations to be displayed simultaneously providing the stage with depth and width, set at an angle from the back wall provided the audience a reflection and image of Susie in her own heaven and everything else that was on the stage was the world she has left behind where she became a voyeur in her own family's grief as they try to come to terms with their loss- such an ingenious design concept that worked so well for this captivating story line which is a complete credit to the creative team.
The strong cast provided a magnificent compelling display of characters that have you captivated for the start to finish from the loving parents, devastated siblings, friend associates, police investigation team to the horrific hideous character of 'Harvey' the serial child rapist and killer.
This astounding 100 minute stage adaptation of Alice Sebold's international best seller is nothing short of a masterpiece that is absolutely harrowing but so powerful that during the evening you could not hear a single sound throughout the auditorium as the audience held on to every word and waited in anticipation as what was to come next.
Special mention must go to the group feature of the deceased children which was represented by different sized girls dresses brought to life by arms of the puppeteers as this was again compelling and captivating.
The show runs until Saturday 19th and I would highly recommend this harrowing but powerful masterpiece of theatre. https://thelowry.com/whats-on/the-lovely-bones/
Reviewer: Katie Leicester
Reviewed: 15th October 2019
North West End UK Rating: ★★★★