There is nothing quite like the drama and theatrics of a night at the opera; from hearing the live Orchestra warming up; right through to the final act - it's an art form full of passion and pomp.
And this month; Opera North have been delivering a number of different opera at The Lowry in Salford Quays giving you a choice of which, if not all you'd like to see.
Current Production; Martinu's The Greek Passion is an eye-opening production stripped back pushing its social commentary to the forefront.
Based on Nikas Kazantzakis novel 'Christ Recrucifed' it tells the tale of a remote Greek village getting ready for its traditional Passion play. Worried by the arrival of a starving refugee group whose homes have been burnt down - the villagers are divided between offering help and turning their backs. Cleverly as we lead into the later acts of this opera, their characters life imitates art as those cast in the Easter play begin to emulate the characters they portray and as Manolios (played by Nicky Spence) as Christ and his Apostles grow into their roles from the play - the elders in the village fear they are losing authority and a fatal outcome occurs.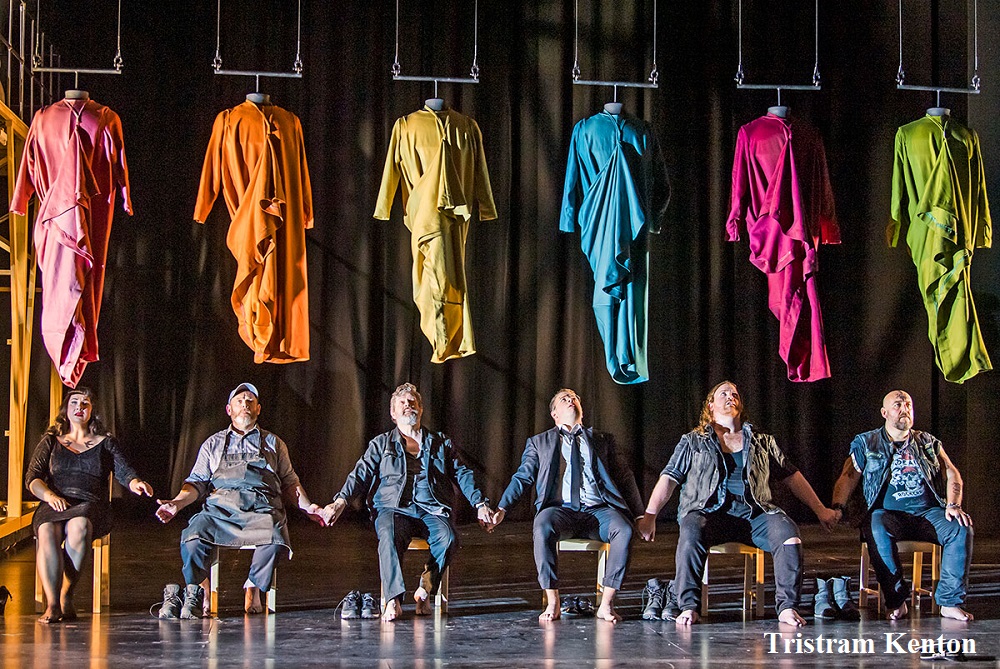 Directed by Christopher Alden; this production is stripped right back with very minimal staging and plain clothed performers, block lettering text at the top of the stage reads 'give us what you have too much off' which resonates throughout and tiered staging is used to resemble the remote hillside location of the village where it's set, while plaster figures are used throughout as the refugees, showing them as helpless and in need of assistance, it's something so simple but yet so effective and as a member of the audience, you can't help but be moved by this work.
The reason I chose this opera over other Opera North productions this month was the fact it was sung in English, that and it's a relatively new work that was first performed in 1962 in Zurich. As a result, you don't have to follow subtitles to know what's happening and it doesn't feel stale or old fashioned, in fact even the lyrics and spoken sections have been modernised with a remark of 'bloody vegans' and other modern references added.
The score is simply phenomenal performed by the live orchestra led by Musical Director; Garry Walker - an eclectic mix with everything from folk passages to big powerful pieces which complement the opera throughout, never a dull moment.
The performers on stage deliver too with a cast which has so much talent, big voices full of energy and life. Special mention must go to Magdalena Molendowska as Katerina for a goosebump inducing performance.
Opera North's production; The Greek Passion is a moving opera which does exactly what opera should do in the 21st century, it provokes, evolves and captures your heart from start to finish.
Verdict: A passion-filled piece which will make you think!
Reviewer: Max Eden
Reviewed: 16th November 2019
North West End UK Rating: ★★★★