Roll up, roll up the circus is in town and tonight, ladies and gentleman, boys and girls, we went back in time to 1903 – the golden age of circus – at the Lowry theatre in Salford.
It seems circuses are making a real comeback from the big screen smash hit of The Greatest Showman to the numerous Cirque du Soleil productions. Circus 1903 is a wonderful new addition that provides all the thrills of a big top Circus.
Tonight began with Ringmaster Willy Whipsnade, chatting and doing cards tricks among the guests on arrival. Created by Neil Dorward, Circus 1903 brings together artists from across the globe in a series of breath-taking acts including juggling, balance and acrobatics.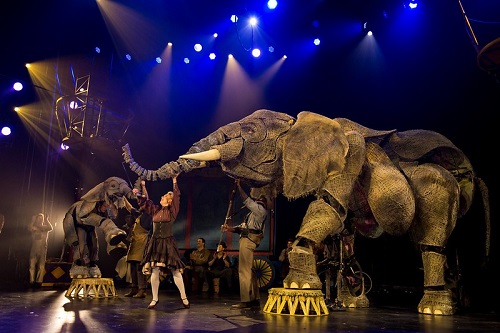 Linking and presenting the acts is David Williamson as the larger-than-life Ringmaster and showman, Willy Whipsnade. From the moment Williamson steps onto the stage he holds the audience in the palm of his hand with his charisma, blend of slapstick humour, bravado and silliness, and with a show of his top hat he brings alive the circus of yesteryear.
The circus was assembled before our eyes, and we were catapulted into the show by the daring Desafios, three Brazilian dare devils springing and somersaulting from a teeterboard into stratospheric heights.
The acts that followed we watched with our hands covering our eyes as the Sensational Sozonov from Mosco balanced on a stack of six wobbling cylinders placed precariously on a high podium and attempted a 360 degree rotation. Never before had I seen a human body contort to the degree of Ethiopia's Senayet Asefa Amare, the Elastic Dislocationist whose head and legs were in places that seemed impossible to ever be.
The most moving and beautiful performance of the Circus for me was Ukraine's The Flying Fredonis, Daria and Vadym aerial ballet that showcased strength, passion and elegance.
Thankfully no modern circuses trade in captive animals anymore so the two resident elephants of Circus 1903; Queenie and Peanut, are created and are courtesy of the Warhorse creators and leading puppet company Significant Object. The spectacular moment when mother and baby elephant are revealed and managed by a team of puppeteers, had the audience gasping in appreciation of the life like creatures.
The second act featured even more sensational acts such as Les Incredibles flying acrobatics. Great applause came for the Frenchman; The Great Gaston, who juggled no fewer than seven pins in a magnificent theatrical display.
Throughout the performance ringmaster Willy Whipsnade invited children from the audience to join him on stage for jokes and stunts and he was truly brilliant at working with them to create impromptu humour. Whipsnade also passed tender messages to the young children of believing in magic and especially in themselves, which was at times really quite tear-jerking.
Tonight's show was truly sensational and in sharing the experience with my 7 year old companion I found a renewed love for the circus. In the words of Willy Whipsnade, "these acts, which have taken years of practice, been passed down in families for generations, may only shine on stage for a few minutes, but they will be remembered in our minds forever".
Well tonight's Circus 1903 will be held in my heart and mind for a very long time as one of the best evening entertainments I've experienced. This is one show you really cannot miss before it does what all circuses do on Sunday and trundle out of town to the next one.
Reviewer: Victoria Wilmot
Reviewed: 19th November 2019
North West End UK Rating: ★★★★★