Splendid Productions are an educational theatre company who specialise in bringing challenging work to younger audiences and exposing theme to a wide variety of techniques and practitioners. As part of their 2019/20 programme, they have reimagined Kit Marlowe's classic Elizabethan story of a man who sells his soul to the devil, unfortunately the experience left me colder than the freezing water of Salford Quays.
Director Kerry Frampton along with fellow adapter Ben Hales, have retained the episodic structure of the original morality play, basing the evening around ten chapters over the life of Faustus and illustrating the seven deadly sins he commits before his soul is damned.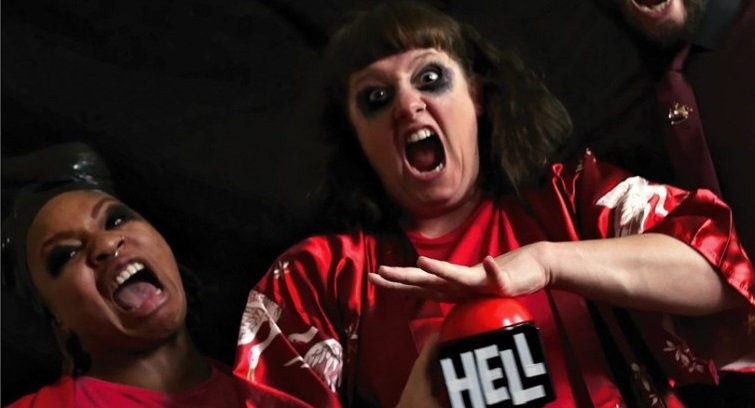 The beauty of the original language is allowed to peep through on occasion and when it does, holds the audience's attention and leaves you wanting much more. However, most of the hour running time is devoted to a combination of physical comedy, regional accents, musicals numbers and tricks that are clearly aimed at engaging a teen audience in a school setting. The house lights remained up for the duration and Lucifer (Grace Goulding) engages with the audience tempting them with gifts, provoking large numbers of teenagers to invade the stage; funny once but tiresome by the conclusion, demonstrating the audience had entirely missed central message of the original piece.
Goulding, along with Nick Crosbie and Tanya Muchanyuka play all ten characters in the play and know which buttons to press (literally in one case), in order to provoke audience reaction. Crosbie showed good comedic rapport and his 'posh boy' character was strongly reminiscent of Jack Whitehall in its execution. Sadly, throughout the show betrayed its obvious festival roots, looking lost and feeling amateur on a larger professional stage.
If this encourages students to pick up the original masterpiece then this devised piece has served a useful purpose. I'm sure it would be fantastic fun on the Royal Mile in Edinburgh during August, but the whirring sound I heard as I left the theatre was Marlowe spinning in his grave.
Reviewer: Paul Wilcox
Reviewed: 20th November 2019
North West End UK Rating: ★★