Art imitates life and art improves life. For many art is life and nothing else matters but art. It is everything. All they live for is art.
This magical production is about the compulsion of artistic impression. The need to perform and the sacrifices paid. Love, loss, jealousy and passion are all part of life but they are essential to art.
The Red Shoes is a love letter to creativity and imagination. An utterly compelling masterclass of movement, spellbinding to watch. It could move from the light and lyrical to the dark and demonic in a heartbeat. Like bodily circulation it kept beating in time.
If I wanted I could list the references and little in-jokes that were scattered through this production but it would take forever. There was a nod to Swan Lake here, a hint of Coppelia there. Sublime comic touches abounded throughout like throwaway lines in a play. In one sense it was overwhelming but it never made you feel overwhelmed.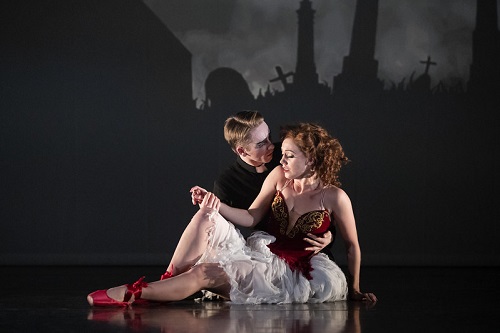 The Red Shoes is based on the 1948 Powell and Pressburger movie which in turn was based on a Hans Christian Anderson fairy tale. The staging was filmic and spectacular but it maintained the essence of a fairy tale. Throughout the ballet there were games being played with art and reality, high art and low art, truth and fiction.
The sets were amazing and there were clever lighting effects. At times the dancers would be in silhouette echoing black and white movies. Even though the settings were regularly changing it was not distracting as this was all part of the artifice. The costumes were exquisite.
Interestingly the music is not from the original score of the film but from the works of Hollywood composer Bernard Hermann. He famously worked with Hitchcock but the music used in this production comes from some of his other work. For example, there are pieces from Citizen Kane and Fahrenheit 451.
Ashley Shaw was simply entrancing as Victoria Page, the wearer of the red shoes who can't stop dancing. Her performance was perfection. It was moving, dynamic, graceful and, of course, intrinsically theatrical. It was impossible to take your eyes off her.
Adam Cooper was majestic as Boris Lermontov, the Ballet Impresario who tempts Victoria towards the red shoes and living for art. He displayed strength, grace and the arrogance of a character who believes that art is more important than love.
The genius behind this production is Sir Mathew Bourne. He has been pushing the boundaries of ballet for twenty years and wowing audiences around the globe with the sheer audacity of his productions. The attention to detail is wonderful to behold. Everything on stage is fresh, free and exciting. There are almost no superlatives that can say how good this production is.
I have never seen such a standing ovation at the end of a show. The audience were on their feet applauding an artistic endeavour that is probably as close to being artistically perfect as it is possible to be. Which is, given the theme of this ballet, entirely appropriate.
Reviewer: Adam Williams
Reviewed: 26th November 2019
North West End UK Rating: ★★★★★