Things go wrong on stage, believe me I know. As an amateur performer for many years I can tell you I have experienced my fair share of cock-ups whilst treading the boards. These things happen at all levels of theatre and often they leave an entertaining theatrical anecdote in its wake.
The great actor Mark Rylance commented, when he was on Desert Island Discs, that he enjoyed it when things go wrong on stage.
All manner of things go wrong for the fictitious Cornley Polytechnic Drama Society production of Peter Pan. I was once in a play where part of the set fell down. Fortunately no one was hurt. Yet in this production things explode, people catch fire and sets literally fall apart.
This play is a wonderfully executed farce. We love farce in this country. You only have to think of the popularity of Fawlty Towers to see how much we love this genre of comedy. When it is done well, as it was tonight, it is a joy to behold.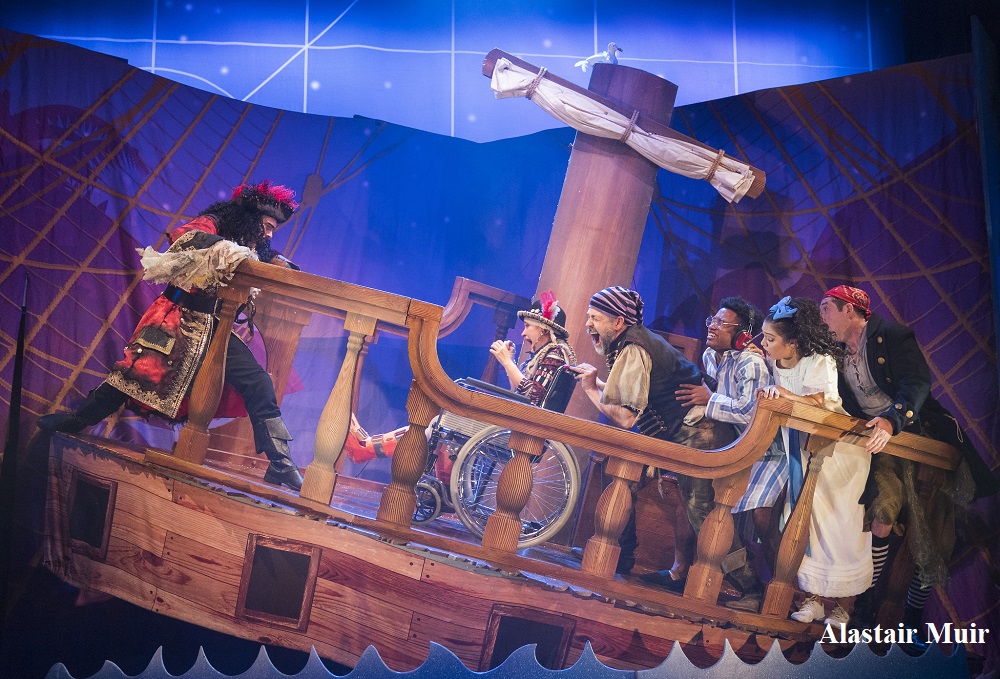 The premise of the play is simple. An inept amateur dramatic group want to put on a production of Peter Pan. There are simmering rivalries between the players and, of course, things go wrong. But whilst the idea is simple, to make it work successfully is extremely difficult.
Farce is physical and we were treated to a tour de force of perfectly timed, imaginative and creative physical comedy. They slipped, crashed, banged and walloped themselves all over the place.
My favourite comedians of all time are Laurel and Hardy and I can give these performers no higher praise than to say their physical comedy skills were on a par with Stan and Ollie's.
A word has to go out to the set designer Simon Scullion. His set was a work of genius. It was actually three sets placed on a revolving stage which allowed for a couple of hilarious sequences performed without dialogue as the set wheeled around.
The fictional director of the show insists it is not a pantomime. It is, of course, a pantomime in all senses of the word and the audience are fully involved. This added to the charm of the production and made for a wonderful experience.
In an ensemble production like this one it is perhaps unfair to pick out individuals but I did enjoy Oliver Senton as the hammy actor Robert with the over theatrical voice. In my time in amateur theatre I have met quite a few Roberts.
I also enjoyed Katy Daghorn as Sandra who plays the part of Wendy with such over the top enthusiasm. Tom Babbage as Max won the audience's heart with one woman shouting that she, 'loved him.'
This play may go wrong but it gets everything right. It is hilariously funny with a warm heart beating at its centre. There is enough fairy dust here for everyone and I thoroughly recommend it.
Reviewer: Adam Williams
Reviewed: 3rd December 2019
North West End UK Rating: ★★★★