We often have an idealised and romanticised view of love, which seems to be commonly perpetuated in a lot of theatre, but this production is not like that. Danny and the Deep Blue Sea is a love story and it does have its gentle and romantic moments, but it's also messy and violent and uncomfortable to watch. However uncomfortable it is though, it is also entirely engaging, and I was glued to every single moment.
John Patrick Shanley has created a hard-hitting piece of theatre that explores the fine line between love and hate, and the things that can tip us over the edge into pain and cause explosive reactions. Danny, a trucker with a short temper and a history of violence, meets Roberta, a divorced mum from a Roman Catholic family with a secret to hide and a mountain of guilt, in a bar in the Bronx.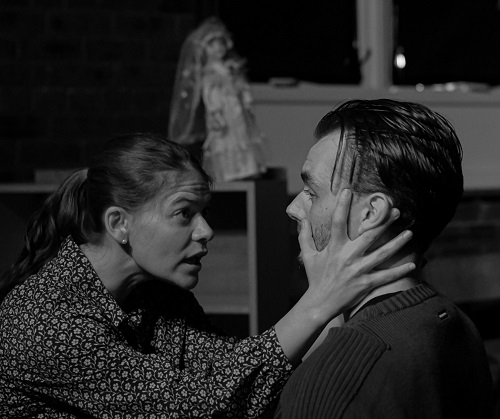 There is nowhere to hide in this production revived by Manchester-based production company Play With Fire (https://www.playwithfireproductions.com/). A sparse set only highlights the exceptional performances by Hannah Ellis Ryan and Danny Solomon. I was extremely impressed by how they managed to sustain the level of intensity throughout the play, and I was completely blown away by their unwavering aggression and passion as much as by the fleeting moments of tenderness. This play is going to stick with me for a long time.
Danny and the Deep Blue Sea was a hit this summer at the Greater Manchester Fringe and the Hope Mill Theatre, and very much deserves this two-night revival at the Kings Arms in Salford.
There are still a few tickets left for tonight's performance: https://www.ticketweb.uk/event/danny-and-the-deep-blue-the-kings-arms-tickets/10117035?pl=kingsarmssalford
Reviewer: Jo Tillotson
Reviewed: 16th January 2020
North West End UK Rating: ★★★★