"Ghost Stories" is currently touring the UK for the first time, having played worldwide following its West End debut in 2010.
Written by Andy Nyman and Jeremy Dyson (the former starring in the 2017 film version), all promotion is mysteriously silent about the content, other than to bombard theatregoers with "Are You Brave Enough" posters and warning that the show contains moments of extreme tension and is really not suitable for those of a nervous disposition. For pre-show tension and hype, it really hits the mark. I was quite nervous about going to see it, even though I have seen the film.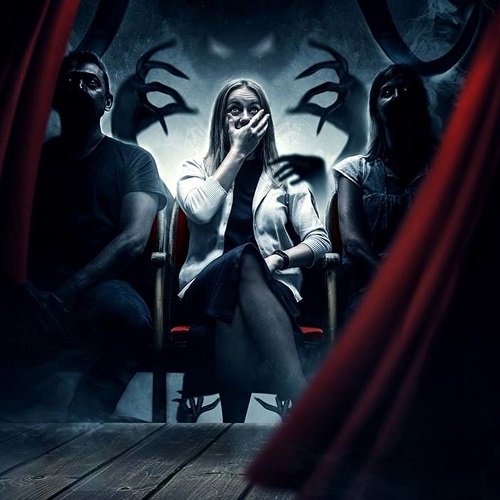 There is a "Mousetrap"-esque plea to the audience to keep the secrets of "Ghost Stories" and indeed, reviewers are asked not to reveal any plot...so this may be short!
I can say that the story is ostensibly a lecture by a Parapsychologist, Professor Goodman (Joshua Higgott) who is relating three case histories of supposed hauntings. Each story is acted out and in between each one we have the Professor explaining to us what the rational explanation could be.
The show has all the ingredients of good old-fashioned horror: the slow building of tension and simple fear inducing techniques with the use of darkness and sudden loud noises. The set and staging is fantastic and so imaginatively done, I was really impressed with the slickness of the scene changes which were seamlessly executed and the props and staging were used to maximum effect. Full marks go to Dyson, Nyman and Sean Holmes for their imaginative directing.
The actors deserve a five star rating for their performances: I really enjoyed all of their portrayals and I loved the characterisation of each of them. Joshua Higgott makes an authentic Professor; becoming impassioned by his subject, using humour to make a point and also relating very well to the audience. Paul Hawkyard gave a sterling performance as a northern night watchman and Richard Sutton was a very convincing brash businessman (watch for his hilarious gesture when sending an email). Gus Gordon is making his professional stage debut and he was excellent as the nervy, slightly hyper young man who was telling us his tale.
Where it fell a bit flat for me was in the actual climax to each story which would presumably produce the "scream factor". I can't say a lot more than that, other than to say I was disappointed and I feel there needs to be less pre-show build-up as the "reveal" in each story didn't really deliver, in fact each of them seemed to induce a lot of audience laughter. I'm still not sure if this may have actually been the desired effect as I did expect better, given all the hype about how terrifying the show was.
I do feel the show would be better suited to a smaller, more intimate theatre as there were no microphones used and although the actors projected well, sometimes it wasn't enough and some of the dialogue just couldn't be heard clearly, particularly from Professor Goodman on the occasions when he was upstage. I quite understand that the lack of microphones gives a more authentic, theatrical feel and I actually prefer this but a lot of the dialogue was lost as the Lyric Theatre is a large venue.
Minor grievances aside, this is a very traditional British type of horror anthology and that aspect certainly ticks all my boxes. I like the story and the whole concept which is very clever. There is tension, humour and a well created, dark atmosphere.
Reviewer: Nicky Lambert
Reviewed: 18th February 2020
North West End UK Rating: ★★★★