John Steinbeck's Of Mice and Men has really stood the test of time. Released in 1937, it has gone on to become arguably the most studied novel by students in the country. However, it wasn't always celebrated, in fact some tried to have the text censored deeming its topics too controversial to publish.
This production performed by Sixth Form students at Pendelton College is a true to the text performance of the text. However, when performing this piece it is always going to be the story that plays the starring role. The students do a good job in bringing this production to life.
I think it's fair to say the drama slowly builds in this piece. Act 1 mainly serves as a narrative to introduce us to the characters and tell us about the situation they're in.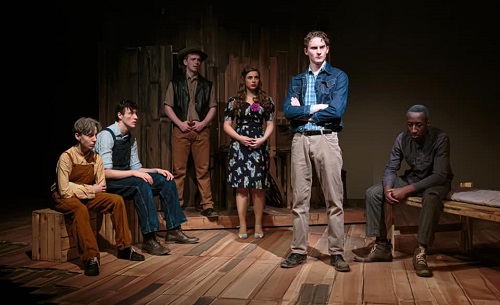 For a college production the set is remarkable - they clearly had some budget available to them. Although quite simplistic, the revolving doors and walls did transport us to a ranch in the US in the 1930s. A pretty grim place filled with people who don't really want to be there.
While all the white workers sleep in the bunk, the only black man; Crooks is forced to sleep in the barn. A sign of the segregation that was so evident in American society at the time.
The plot focuses mainly on the relationship between George Milton and Lennie Small - lifelong friends who are looking to earn enough money to get a place of their own.
In the opening scene not much is said of why they're sleeping under the stars but we get the impression they had to leave their old job in a hurry. It soon becomes clear that Lennie, although clearly suffering from a learning difficulty is physically strong and perhaps doesn't even know his own strength.
His strength lends itself naturally to the intensive labour jobs that he and George do. However, he completely relies on George to get through each day of his life. His childlike manner is quite often misunderstood and more often than not lands him in trouble. At the beginning of the play we see George warning him not to say a word when spoken to at their new job.
The chemistry between the pair is quite strong and the final scene becomes more of a tearjerker than I ever recall. There is a genuine fondness of each other between the couple.
Reviewer: Brian Madden
Reviewed: 25th February 2020
North West End UK Rating: ★★★★