With the opening bars of music being The Teddy Bears' Picnic, and seeing a costumed bear wandering across the stage following a costumed wolf, one might be forgiven for thinking that the title was misspelled and it was a show for children. Think again! No, despite the strange array of colourful and fancy costumes, this was writer Cathy Crabb's very disappointing lacklustre script about a Saddleworth tradition. That of organising a pub crawl for charity, and asking the participants to go around the pre-organised route in teams and in fancy dress.
This was a lovely comedic premise to work from, but what we were given was in fact nothing more than a disjointed series of duologues and vignettes, some more serious and dark than others, but the whole thing was highly insubstantial feeling more like a community theatre project than what could have been a truly inspiring showcase for those performing it; students on the BA (Hons) Acting For Live And Recorded Media course at The Arden, Manchester.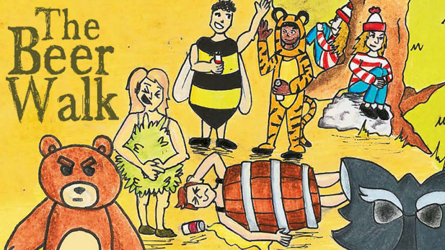 The whole thing lacked energy, pulse, gravitas and just being given a glimpse into one person's world before having to do the same time and again for each character without seeing any character development or being able to emote or sympathise with these characters just left me feeling flat and uninspired. Why introduce us to a suicidal trumpet-blowing Ancient Greek goddess and her knight in shining butcher's clothes, for them never to feature again. Whatever happened to them and their story? And that was just one of many snippets of conversations which we were flies on the wall to. And I still don't understand why the pianist and page-turner were dressed as winged angels.
Yes, this was a play with music and song, although I can't help feeling that it would have worked much better without the music. With it, it was almost as if it had aspirations of being a Musical, but without it, we may have been able to have delved a little deeper into some of the 24 characters' lives.
This doesn't mean to say however that the acting was bad; far from it. In amongst all of this nonsense, there were some rather good mini-performances. The two 'Where's Wally' costumed bickering sisters had a definite stage presence and strong characterisations; as had both Jake's mum and the Northern Irish butcher mentioned above. Sadly the programme is confusing, and not being able to put name to picture, hopefully someone else will be able to credit you. [I couldn't keep track of 24 characters especially when some were not given their name in the dialogue].
It was also a little strange too, that considering Saddleworth is predominantly white upper-middle class, the casual racism against a young Greek student waitress was understandable even if quite laboured; but why would this racism come from a black girl?
I have seen Arden students many times and know that this play did not do justice to their talent and abilities. Pity.
Reviewer: Mark Dee
Reviewed: 18th May 2017