Stroppy, written and directed by Chloe Weare as part of the University of Manchester Drama Society's MIFTA Season, follows the sleepover of four young women in the 1970's after helping one of their mum's out at a raffle for her feminist group.
The 1970's design and costume set the scene well with garish paisley patterns and Fleetwood Mac vinyl scattering the floor, the addition of a huge strawberry trifle helped too. The girls introduce themselves one by one and between a mixture of dialogue and monologues we start to grasp their characters.
Mari is the more serious, bookish of the group, Marlene the 'beautiful' one with the boyfriend, Lisa struggles with disordered eating and T wants to know everything about sex. The actors had no qualms bringing topics like menstruation and porn to the small stage of Manchester's 53Two.
One of the most refreshing things about the piece was the balance of girlish chatter about things like boys and makeup, intertwining seamlessly with other more serious women's issues like contraception, assault and victim blaming. So often plays about feminism can become serious or hyper-political, and while that is absolutely necessary and has a space in theatre, this was a significantly more light-hearted and light-touch approach, 'an anthem for girls who think they might be angry but aren't quite sure'.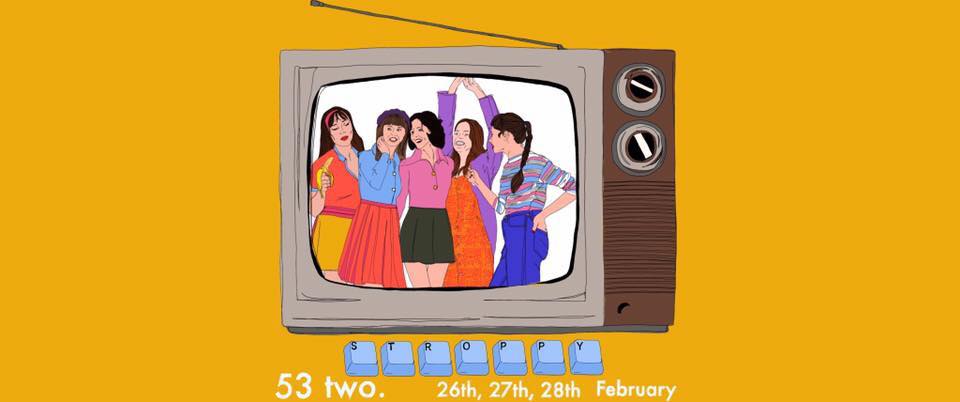 There was clearly inspiration drawn from Caryl Churchill's Top Girls for the themes, even Marlene's name nods to the monumental 1980's icon of feminist theatre; although Stroppy is significantly more accessible to a wider and younger audience.
There was some disconnect when a fifth character was drawn in – Red. Although there were pointers to the idea that she was from a more modern time, like her mobile phone, and it was clear that she was struggling with all the same thoughts and feelings as the other girls had going through puberty as women in the 70's- it was tricky to understand quite how she fitted in with the piece. Acted by Sophie Murray, who was convincing, funny and dealt admirably with missed technical cues, the overarching plot device was somewhat lost on the audience.
The scripting on the other hand was quick and sharp at times which made the misgivings forgivable. There were multiple lines that were laugh out loud funny and delivered well by the cast. T, played by Kate Gabriel, in particular has spectacular comic timing, authentic audience engagement and non-caricature reactions even as the other characters took centre stage.
An enthusiastic performance by the whole cast of Stroppy who are championing a message that rings true for women from 1970-2018. Stroppy is running until 28th February and the rest of the Manchester In Fringe Theatre Awards spring season by the University of Manchester Drama Society runs until the 16th March in theatre spaces across the city.
Reviewer: Jo Flynn
Reviewed: 26th February 2018