Being a play that is close to my heart, as I studied it at school, I had high expectations for the show. Pendleton Sixth Form College takes this world-famous play and throws the audience in feet first as we create the walls of the school.
Now I have to mention, the cast of this production were aged 16-19 years old, and wow, they didn't let their age get in the way of performing this masterpiece of a play. Not only did the cast embrace the challenge wholeheartedly, they excelled.
The History Boys is a play with themes that even though set in the 80s that are still relevant and troubling our schools and lives now.
League tables, inspectors, patriotic society and a female teacher trying to teach young boys the importance of gender equality.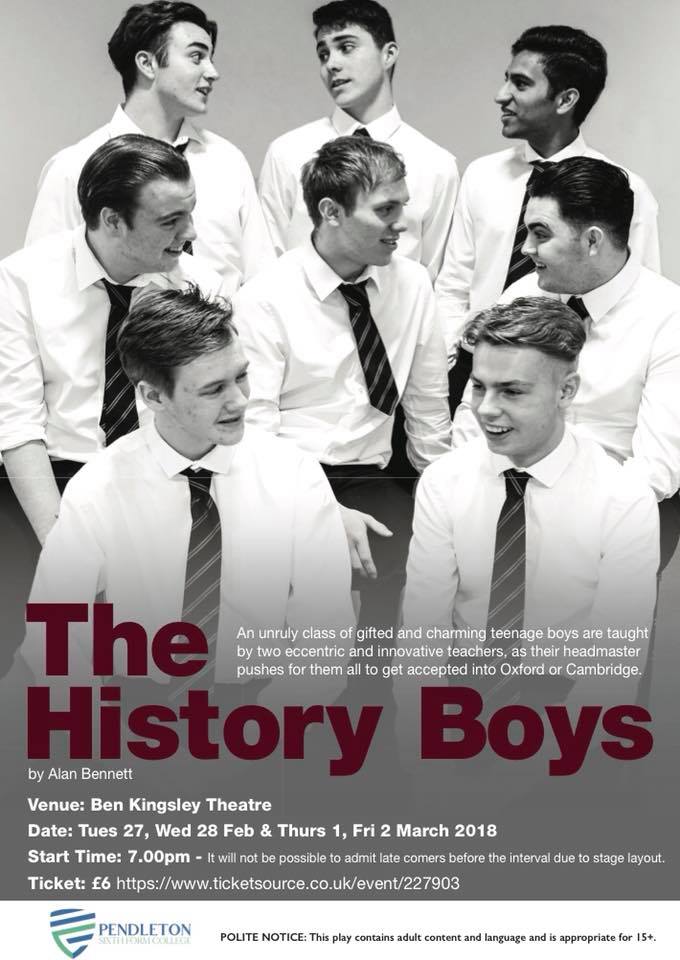 Joe Dillon makes a wonderful Posner, a young lad coming to terms with being gay, Jewish and in love with a classmate. He skilfully plays the piano and singing gorgeously along to Gracie Fields.
The stand out performance has to be from Max Evans, taking on the narrator role of Scripps. Guiding us along the story, Evans excels, shining like stars in roles beyond his years.
When you think of The History Boys, you think of Richard Griffiths shining in the role, the cultured General Studies teacher. But, it took a while to get used to a tall, skinny version of the role, as Joseph Wellman took on the role. At first, similarly, with Aaron Shaw's performance of Headmaster, he started quite flamboyant and slightly hammy acting, as if acting to get the laughs, rather than allowing them to flow naturally. However, during Hector's sad breakdown, you really see Wellman's terrific acting ability.
Jordan Rising's performance of Irwin had its highs and lows, as the possibly confused teacher teaches the students how to 'spin' their way into Cambridge and Oxford.
A pleasantly surprising performance came from Aidan Burgess as the rugby-loving and simple Rudge with great comic timing and ability to make the audience laugh at his simple but understandable statements.
A very sad end to the story and the boys even had tears in their eyes, left the audience in silence and a well-received round of applause.
There was a very clever use of music in between scenes as they played classics from the 80s including 'House of Fun', 'Push It' and a very well chosen 'Under Pressure' after Hector's breakdown.
A very impressive piece of theatre, not letting the fact that they are still only young from getting in the way of performing an incredible play.
**Due to bad weather tonight's performance has been cancelled and re-scheduled for the 8th March**
Reviewer: Jess Stoddard
Reviewed: 27th February 2018