Since the brochure to accompany this exhibition puts it far better than I ever could, I quote; ' (this exhibition) examines the performative and melodramatic connotations associated with racial politics in an evolving post-digital 21st century. Oral histories and verbatim storytelling drawn from theatre and cinema, painting and sculpture, confront the fluid and evolving politics of representation and race, (as we) consider the relationship between blackness, gender and queer identity in the western world today.'
This exhibition, open and free to visit until 3 July can be found on the ground floor of HOME in their exhibition gallery space to the right of the main entrance and box office area. Once inside, the room is divided into areas where films are being shown on continuous loop in booths whilst the walls are adorned with the artworks. It is not a large display, but if you wish to watch the films in their entirety, then you might need to spend a couple of hours or more here.
Modern Art, I shall confess right now, certainly is not my thing! However, as a creative myself, albeit in a different field of creativity, I do feel that one should never close ones mind to anything until you have explored it, digested it, and finally decided that it has given you everything you are ever likely to get from it, and have consequently spat it out. I spent about 20 minutes here before I spat it out - but that is just me.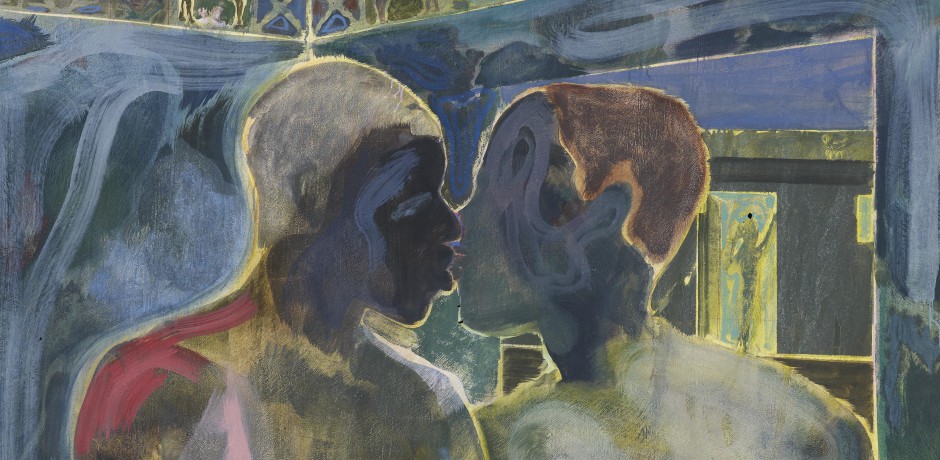 What this exhibition does do, is makes you understand that despite any thinking being to the contrary, there are still many huge problems with race and sexual orientation in both the USA (where most of these exhibits originated) and the UK. In my middle-class white heterosexual body and mind, I believed that both gay and black rights were a thing of the past and that we were all able to live together in harmony these days without fear of the kind of backlashes and prejudices faced by both groups of people years ago through ignorance and lack of tolerance. However, watching these videos and looking at the art and reading the ideas behind the art today I find that that is what is on the surface only. Underneath there are still many problems faced by both groups, in particular a sub-group who are both. It seems that being both black and either gay or transgender is still a huge social no-no. This upset me and although I did not like the works of art nor could I relate to the videos in any way; I did understand the very clear message that was being shown to me, and this affected me greatly.
However, to give you some idea of the work on display, there are at least three long videos (films). Ditch Plains by Loretta Fahrenholz shows us a New York of the future with an all-black dance troupe called The Ringmaster Crew taking us through a bleak and decadent landscape; Reifying Desire 6 by Jacolby Satterthwaite is a mixed media film using 3D models, drawings, animation and real footage to bring together his unique and rather explicitly pornographic take on black gay culture; whilst White Women by Loulou Cherinet takes us to Sweden, as we see a dining table peopled exclusively by black African men, as they talk about immigration and integration, and share their problems and experiences they have had with white women.
The fine art collection includes 6 pictures from Larry Achiampong's Glyth series - a collection of old family photos where he has replaced the real heads with black circles and red lips; two large works by Michael Armitage; Kampala Suburbs and Campus Divas both from 2014; three large works from artist Jordan Casteel; Ato, Mark 2 and Derek 2, with Ato proving to be my favourite piece in the entire collection; and 4 works by Tony Lewis.
Go for yourself and whether you like or dislike the works on display, remember the reason for them being displayed in the fist place, and the need these people felt to create these works in order to make their feelings and experiences known.
Reviewer: Mark Dee
Reviewed: 2nd June 2016